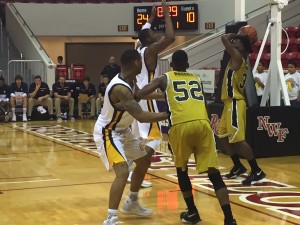 NICEVILLE, FLA. — Junior guard Tre' McLean scored a career high 18 points, hitting seven of nine shots from the floor, to pace Chattanooga to a 95-58 romp past Alabama State in the third round of the Emerald Coast Classic Friday at Raider Arena on the campus of Northwest Florida State College.
McLean also collected a career high six assists and three steals as the Mocs built a 38-22 halftime lead and never looked back.
"I think I came into this game with a different approach," said McLean. "I was more locked in and focused on being aggressive and playing with confidence."
Behind McLean's defensive play, the Mocs collected eight steals while forcing Alabama State into 16 turnovers.
Chattanooga also blocked nine shots led by 6-10 junior forward Justin Tuoyo who had four rejections. Tuoyo also scored 12 points, while guard Casey Jones netted 11 with seven assists. Guard Greg Pryor tallied 10 points making all four of his shots.
Chattanooga shot a season high 67.9 percent from the floor (36-53), including a sizzling 74.2 percent (23-31) in the second half.
"The thing I was most impressed with our guys is that we played the right way on offense," said Mocs first-year coach Matt McCall. "Twenty-eight assists, that's special. I don't know if that's some school record or not, but I've got to think it's up there. Twenty-eight assists is an enormous amount of assists in a game. It just tells me as a coach we were playing the right way."
Bobby Brown came off the bench to pace Alabama State with 14 points, while Jamel Waters added 11.
Alabama State struggled from the floor shooting just 33.3 percent (23-69)
The Hornets, who outrebounded Chattanooga, 39-31, fell to 1-2.
Chattanooga, which moved to 4-1, will play the winner of the Jacksonville State-Chicago State game at 1 p.m. Saturday.