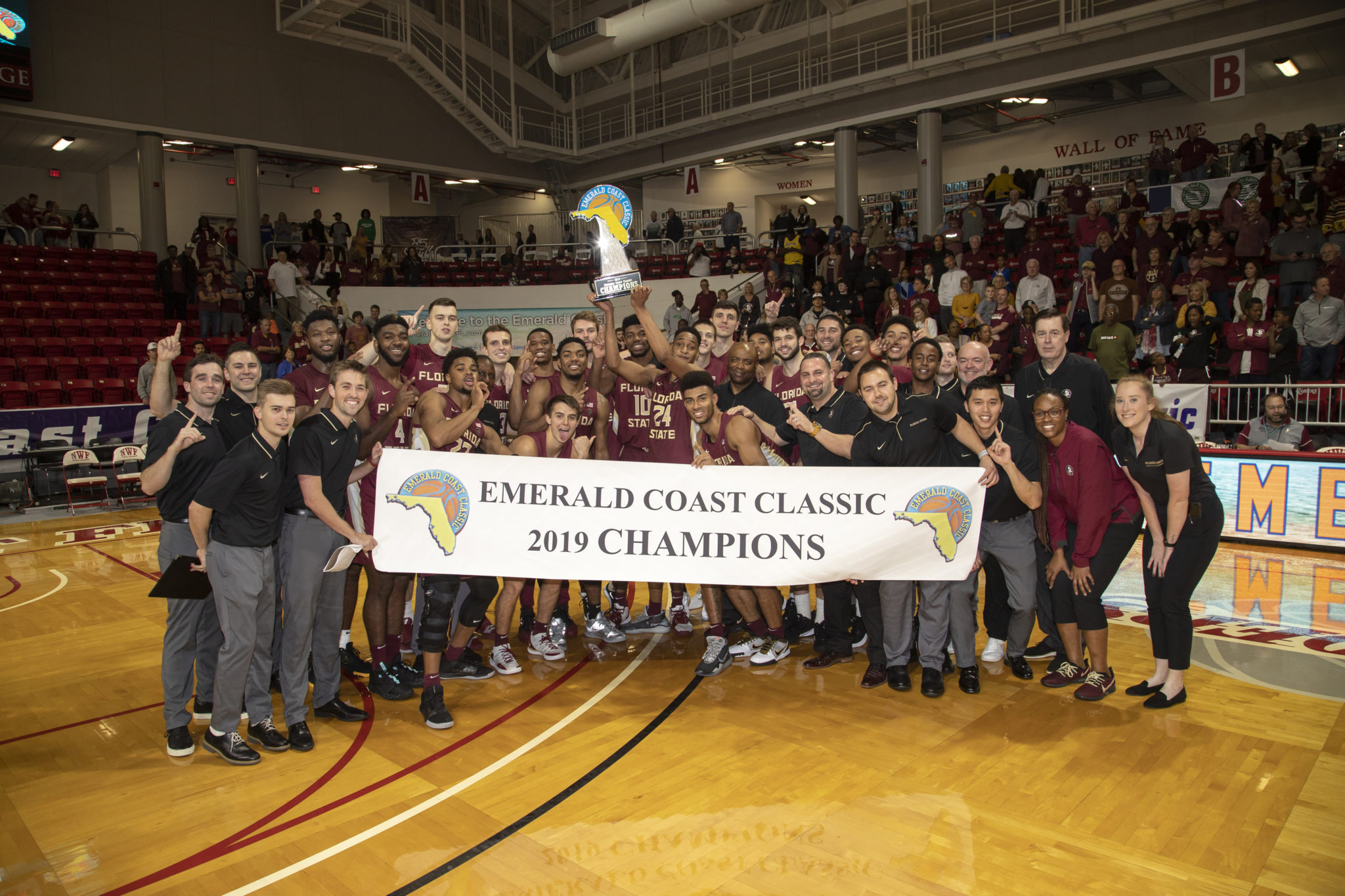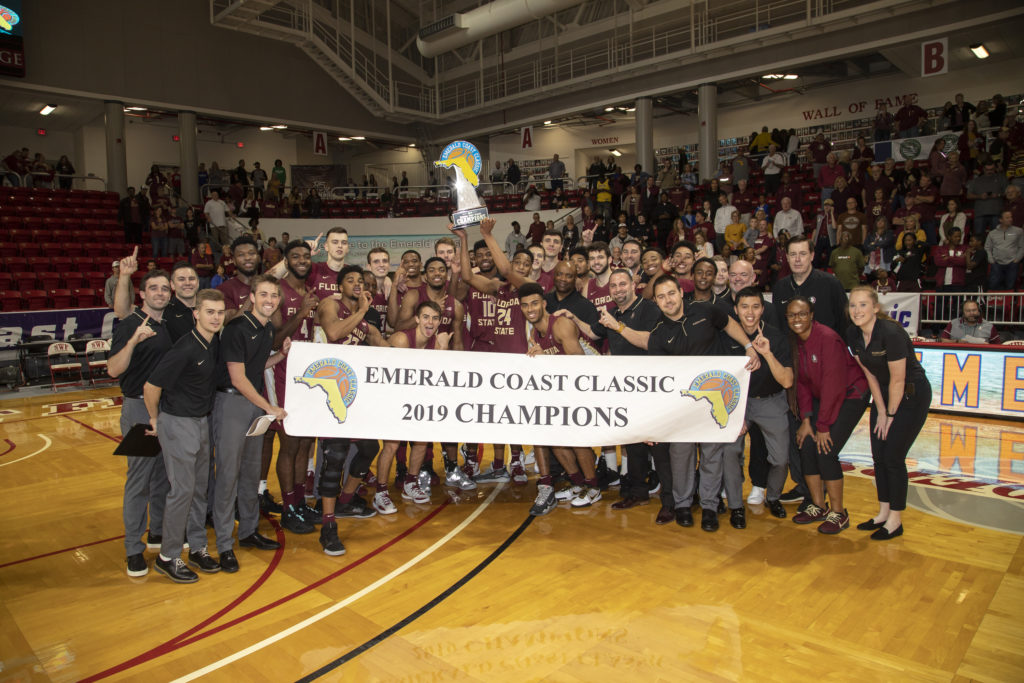 2019 Emerald Coast Classic Results
Jacksonville State 71, Chicago State 62
Chattanooga 74,  Alabama State 56
Florida State 60, Tennessee 57
Purdue 59, VCU 56
Consolation
Alabama State 67, Chicago State 54
Chattanooga 63, Jacksonville State 60
Third Place
Tennessee 72, VCU 69
Championship 
Florida State  63, Purdue 60 (overtime)
2019 Emerald Coast Classic All-Tournament Team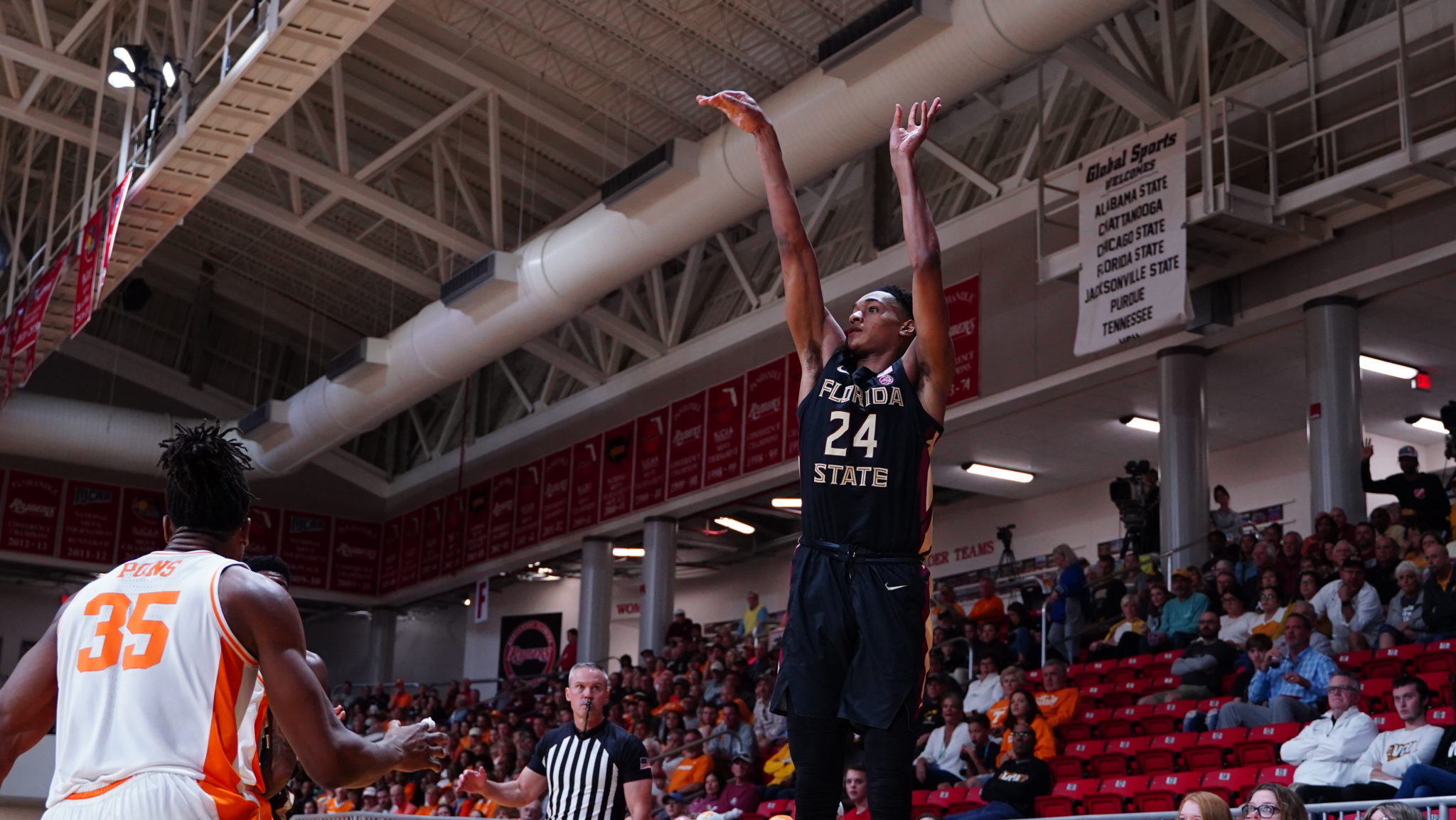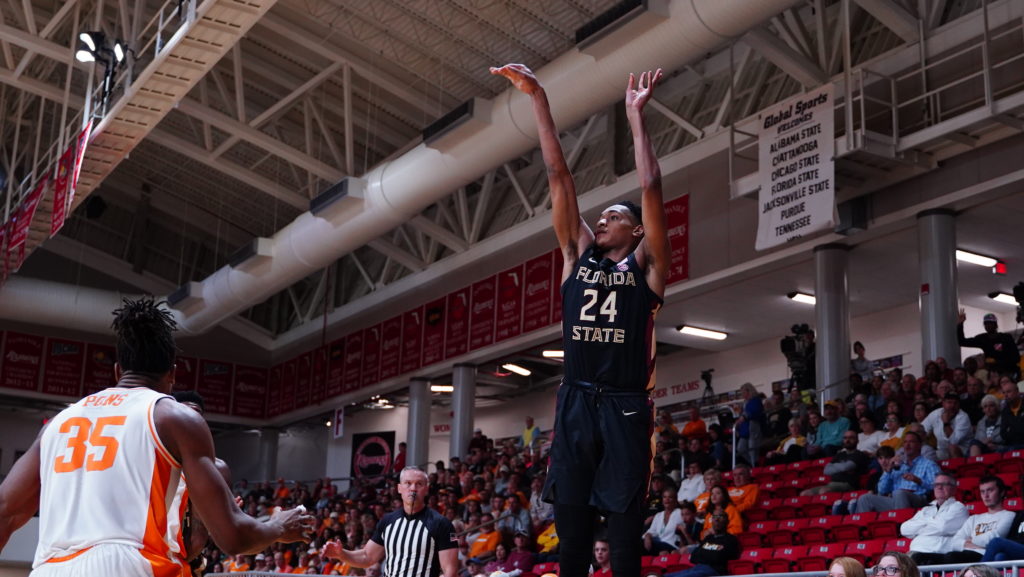 Dean Vassell, Soph., G, Florida State – Most Outstanding Player
Tobi Ewuosho, Sr., G/F,  Alabama State 
David Jean-Baptiste, Jr., G, Chattanooga
Andrew Lewis, Jr., G, Chicago State
Derek St. Hilaire, Jr., G, Jacksonville State
Lamonte` Turner , Sr., G, Tennessee
Marcus Santos-Silva, Jr., F, VCU
Jahaad Proctor, Sr., G, Purdue 
Matt Haarms, Jr., F, Purdue 
Devin Vassell, Soph., G, Florida State
Trent Forrest, Sr., G, Florida State
2018 Emerald Coast Classic Results
Nicholls State 77, North Carolina Central 63
Western Michigan 85, Southern 70
Cincinnati 71, George Mason 55
Ole Miss 78, Baylor 70
Consolation
North Carolina Central 83, Southern 71
Nicholls State 62, Western Michigan 61 (OT)
Third Place
Baylor 72, George Mason 61
Championship
Cincinnati 71, Ole Miss 57
2018 Emerald Coast All-Tournament Team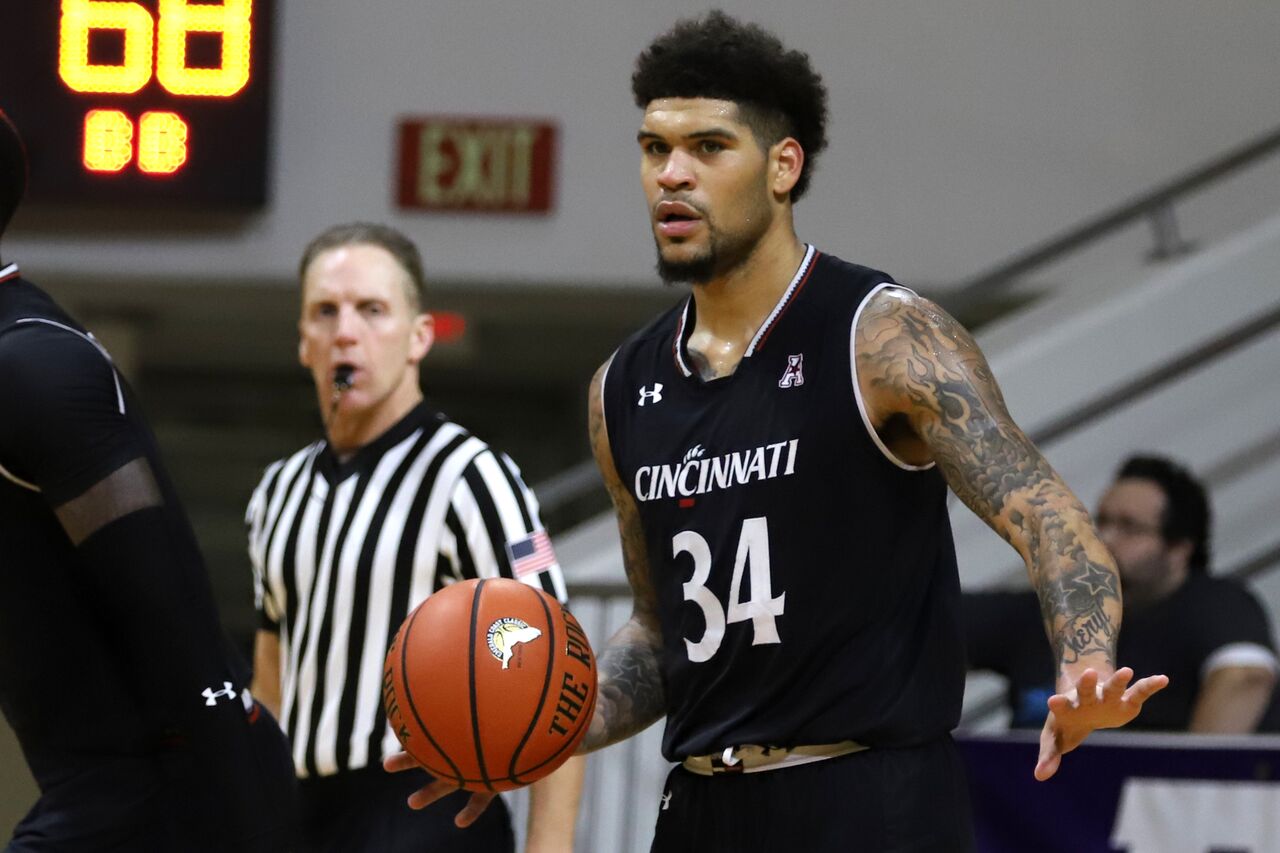 Jarron Cumberland, Jr., G, Cincinnati—Most Outstanding Player
Averaged 18.0 points, 4.5 rebounds, 2.0 blocked shots, scoring 25 points in championship game
Cane Broome, Sr., G, Cincinnati
Devontae Schuler, So., G, Ole Miss
Breein Tyree, Jr., G, Ole Miss
Tristan Clark, So., F, Baylor
Otis Livingston II, Sr., G, George Mason
Jeremiah Jefferson, Sr., G, Nicholls State
Seth Dugan, Sr., C, Western Michigan
Randy Miller Jr., Jr., G, North Carolina Central
Eddie Reese, Sr., G, Southern
2017 Emerald Coast Classic Results
Tennessee Tech 86, Omaha 85
Maryland Eastern Shore 66, Jackson State 63
TCU 69, New Mexico 67
St. Bonaventure 63, Maryland 61
Consolation
Jackson State 75, Omaha 73 (OT)
Tennessee Tech 90, Maryland Eastern Shore 60
Third Place
Maryland 80, New Mexico 65
Championship
TCU 89, St. Bonaventure 79
2017 Emerald Coast All-Tournament Team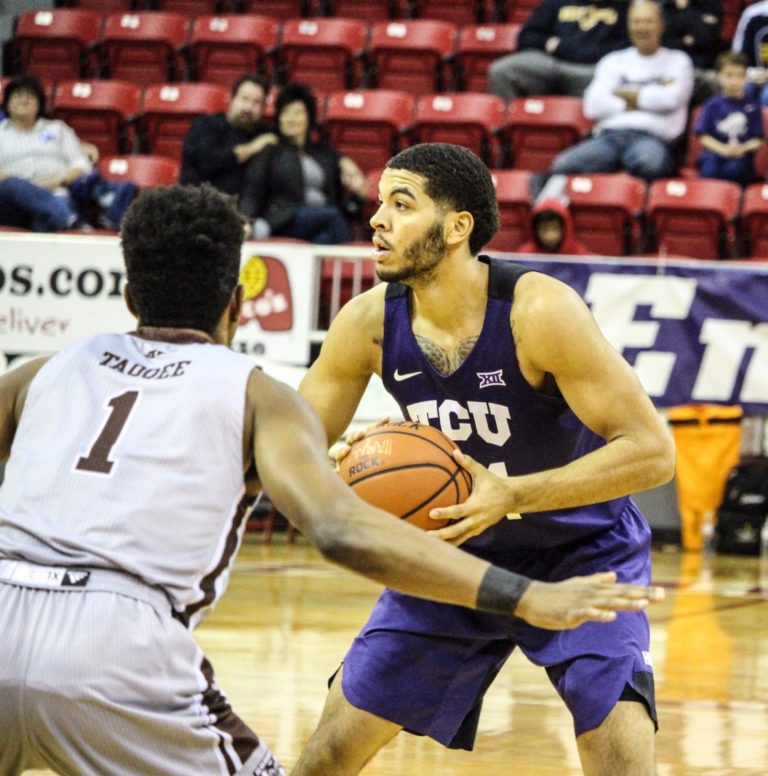 Kennrich Williams, Sr., F, TCU – Most Outstanding Player.
Williams averaged 20 points and 12 rebounds in two games, including 17 points, 12 rebounds, three assists & two steals in championship game
Desmond Bane, Soph., TCU
Matt Mobley, Sr., St. Bonaventure
Izaiah Brockington, Fr., St. Bonaventure
Anthony Cowan, Soph., Maryland
Sam Logwood, Sr., New Mexico
Aleksa Jugovic, Sr., Tennessee Tech
Ahmad Frost, Soph., Maryland Eastern Shore
Jeremiah Jefferson, Jr., Jackson State
2016 Emerald Coast Classic Results
St. Francis Brooklyn 97, Savannah State 91
Texas Rio Grande Valley 101, Grambling 93 (OT)
Virginia 74, Iowa 41
Providence 60, Memphis 51
Consolation
Grambling 110, Savannah State 104
Texas Rio Grande Valley 71, St. Francis Brooklyn 61
Third Place
Memphis 100, Iowa 92
Championship
Virginia 63, Providence 52
2016 Emerald Coast All-Tournament Team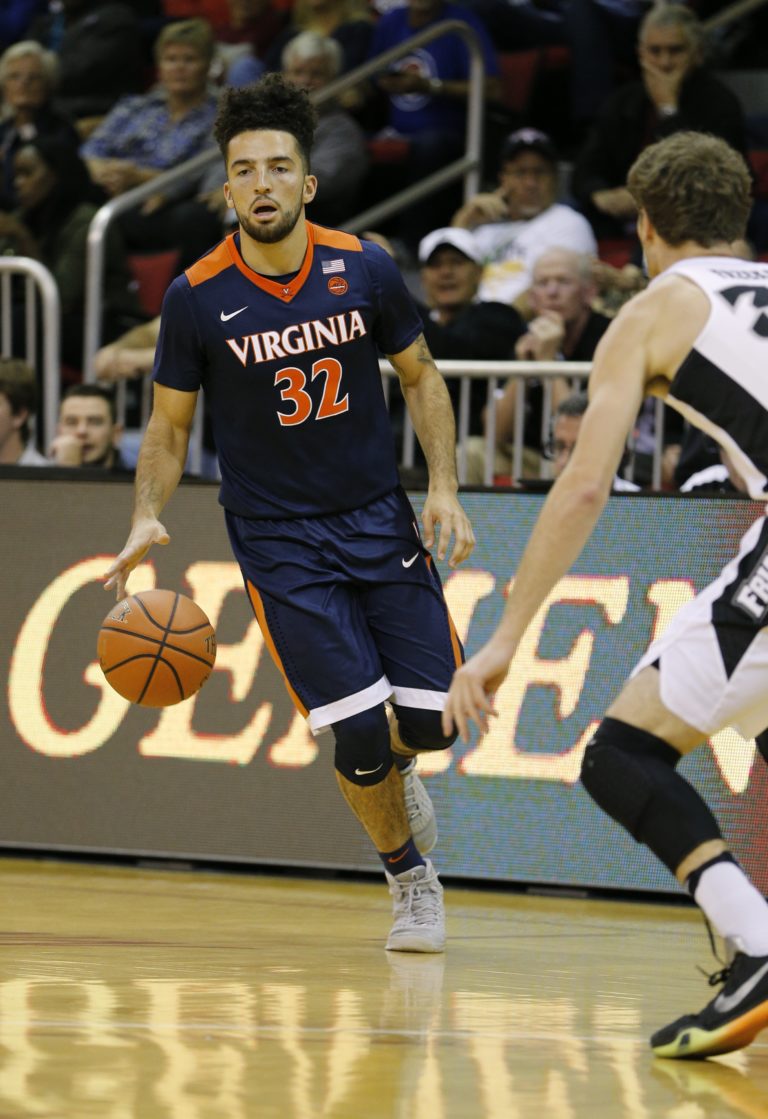 London Perrantes, Sr., G, Virginia – Most Outstanding Player.
Perrantes had 11 points, eight rebounds and five assists in championship game
Isaiah Willkins, Jr., F, Virginia
Rodney Bullock, Jr., F, Providence
Emmitt Holt, Jr., F, Providence
Dedric Lawson, So., F, Memphis
Peter Jok, Sr., G, Iowa
Antonio Green, So., G, Texas RIo Grande Valley
Glenn Sanabria, So., G, St. Francis Brooklyn
Ervin Mitchell, Sr., G, Grambling
Troyce Manassa, Sr., G, Savannah State
2015 Emerald Coast Classic Results
Jacksonville State 68, Chicago State 65
Chattanooga 95, Alabama State 58
Iowa State 99, Virginia Tech 77
Illinois 72, UAB 58
Consolation
Alabama State 66, Chicago State 64
Chattanooga 62, Jacksonville State 52
Third Place
Virginia Tech 82, UAB 77 (OT)
Championship
Iowa State 84, Illinois 73
2015 Emerald Coast All-Tournament Team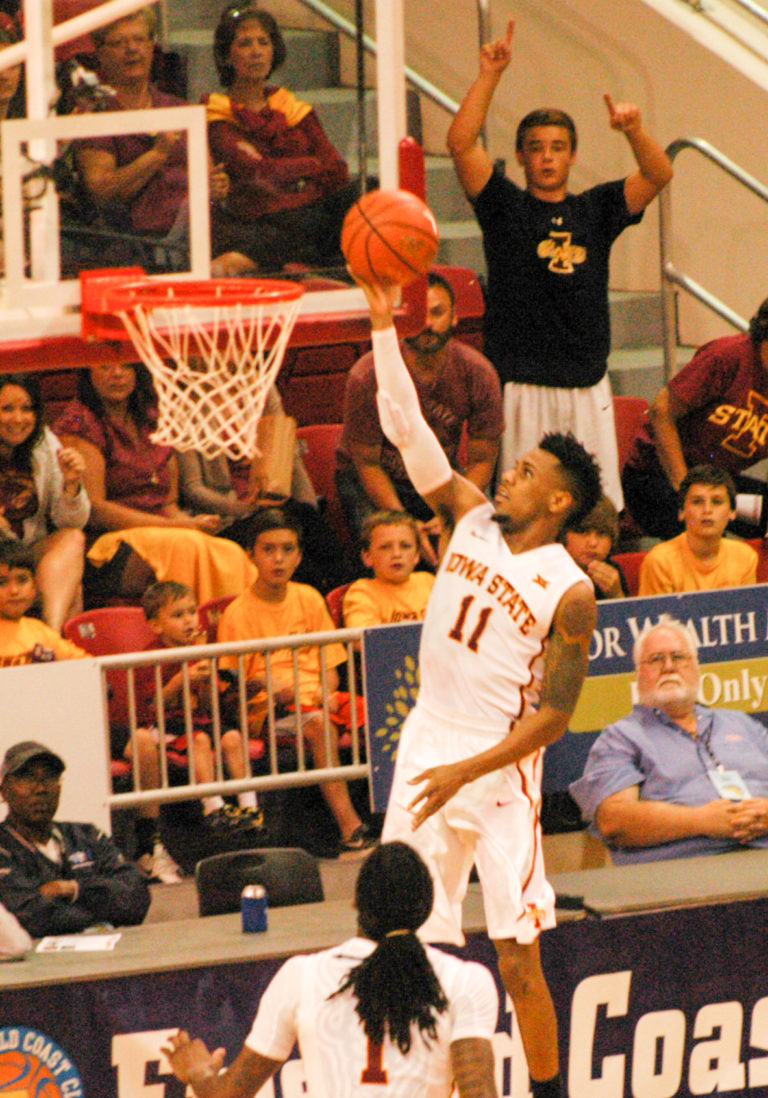 Monté Morris, Jr., G, Iowa State – Most Outstanding Player.
Morris collected 20 points, nine rebounds and six assists in 84-73 victory past Illinois for championship. He had 14 points, with seven assists and one steal in 99-77 semifinal round win against Virginia Tech.
Jameel McKay, Sr., F, Iowa State
Kendrick Nunn, Jr., G, Illinois
Malcolm Hill, Jr., F, Illinois
Erik Durham, Jr., G, Jacksonville State
Jamel Waters, Sr., G, Alabama State
Elliott Cole, Chicago State
Casey Jones, Sr., F, Chattanooga
Zach Leday, Jr., F, Virginia Tech
Chris Cokley, So., F, UAB
2014 Emerald Coast Classic Results
Northern Arizona 70, Southern 63 (OT)
North Carolina Central 65, Eastern Illinois 40
Cincinnati 69, Middle Tenn. State 51
Mississippi 75, Creighton 68
Consolation
Eastern Illinois 54, Southern 43
North Carolina Central 40, Northern Arizona 36
Third Place
Creighton 57, Middle Tenn. State 47
Championship
Mississippi 66, Cincinnati 54
2014 Emerald Coast All-Tournament Team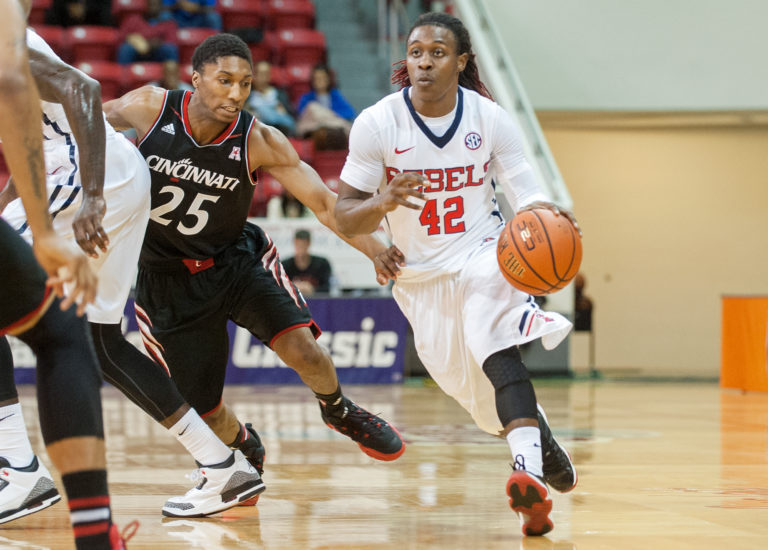 Stefan Moody, Jr., G, Ole Miss – Most Outstanding Player
Moody scored a career-high 26 points, including 17 in second half, in 66-54 victory past Cincinnati for championship.
Jarvis Summers, Sr., G, Ole Miss
Octavius Ellis, Jr., F, Cincinnati
Gary Clark, Fr., F, Cincinnati
Isaiah Zierden, So., G, Creighton
Jacquez Rozier, Middle Tennessee State
Karamo Jawara, Sr., F, North Carolina Central
Quinton Upshur, Sr., G, Northern Arizona
Trae Anderson, Jr., F, Eastern Illinois
Treiun Banks, So., G, Southern
Emerald Coast Classic Tournament Records
Team
Points – 110, Grambling vs. Savannah State (104), Nov. 26, 2016
Rebounds – 48, Purdue vs. Florida State vs. Nov. 30, 2019
Field Goals – 40, Memphis vs. Iowa Nov. 26, 2016; 40, Grambling vs. Savannah State, Nov. 26, 2016
Field Goal Attempts – 74 Grambling vs. Texas Rio Grande Valley, Nov. 25, 2016
Field Goal Percentage – .679 (36-53), Chattanooga, vs. Alabama State, Nov. 27, 2015
3-Point Field Goals – 17, Texas Rio Grande Valley vs. Grambling, Nov. 25, 2016; 17 Savannah State vs. Grambling, Nov. 26, 2016
3-Point Field Goal Attempts – 37, Savannah State vs. Grambling, Nov. 26, 2016
3-Point Field Goal Percentage – .661 (11-18), Maryland Eastern Shore vs. Jackson State, Nov. 24, 2017
Free Throws Made – 32, St. Bonaventure vs. TCU, Nov. 25, 2017
Free Throw Attempts – 44, St. Bonaventure vs. TCU, Nov. 25, 2017
Free Throw Percentage – 1.000 (14-14), New Mexico vs. Maryland, Nov. 25, 2017
Assists – 28, Chattanooga vs. Alabama State, Nov. 27, 2015
Steals – 16, Florida State vs. Purdue, Nov. 30, 2019
Blocked Shots – 9, TCU vs. New Mexico, Nov. 25, 2017; 9, Chattanooga vs. Alabama State, Nov. 27, 2015; 9, Iowa State vs. Virginia Tech, Nov. 27, 2015
Turnovers – 28, Chicago State vs. Alabama State, Nov. 30, 2019
Points in Half – 65 (2nd half) Grambling vs. Savannah State, Nov. 26, 2016
Overtime Periods – 1, Virginia Tech 82, UAB 77 Nov. 28, 2015; Northern Arizona 70, Southern 63, Nov. 28, 2014; 1, Texas Rio Grande Valley 101, Grambling 93, Nov. 25, 2016; 1, Jackson State 75, Omaha 73, Nov. 25, 2017; 1, Nicholls State 62, Western Michigan 61, Nov. 24, 2018; 1, Florida State 63, Purdue 60, Nov. 30, 2019
Individual
Points – 42, Peter Jok, Iowa, vs. Memphis, Nov. 26, 2016
Rebounds – 20, Avery Ugba, Grambling vs. Texas Rio Grand Valley, Nov. 25, 2016
Field Goals – 15, Dedric Lawson, Memphis vs. Iowa, Nov. 26, 2016
Field Goal Attempts – 22, Remond Brown, Grambling vs. Texas Rio Grande Valley Nov. 25, 2016; 22, Dedric Lawson, Memphis vs. Iowa, Nov. 26, 2016
Field Goal Percentage (min. 5 attempts) – 100 (9-9) Josh Davis, Western Michigan vs. Southern, Nov. 23, 2018; 100 (6-6), Justin Tuoyo, Chattanooga, vs. Alabama State, Nov. 27, 2015; 100 (5-5) Colen Gaynor, Maryland Eastern Shore vs. Jackson State Nov. 24, 2017
3-Point Field Goals – 10, Antonio Green, Texas Rio Grande Valley vs. Grambling Nov. 25, 2016
3-Point Field Goal Attempts – 14, Antonio Green, Texas Rio Grande Valley vs. Grambling Nov. 25, 2016
3-Point Field Goal Percentage (min. 3 attempts) – 100 (5-5) Colen Gaynor, Maryland Eastern Shore vs. Jackson State Nov. 24, 2017; 100 (3-3), Jermaine Sanders, Cincinnati vs. Middle Tennessee State, Nov. 29, 2014; .857 (6-7) Mitchell Ervin, Grambling vs. Savannah State, Nov. 26, 2016
Free Throws Made – 13, Breein Tyree, Ole Miss vs. Baylor, Nov. 23, 2018; 13, Jarron Cumberland, Cincinnati vs. Ole Miss, Nov. 24, 2018
Free Throw Attempts – 17, Breein Tyree, Ole Miss vs. Baylor, Nov. 23, 2018
Free Throw Percentage (min. 8 attempts) – 100 (12-12), Peter Jok, Iowa, vs, Memphis, Nov. 26, 2016; 100 (10-10) Andrew Lewis, Chicago State, vs. Alabama State, Nov. 30, 2019; 100 (10-10), Matt Mobley, St. Bonaventure, vs. Maryland, Nov. 24, 2017; 100 (8-8), Justin Jackson, Maryland, vs. New Mexico, Nov. 25, 2017; 100 (8-8), Rodney Bullock, Providence, vs. Virginia, Nov. 26, 2016; 100 (8-8), King McClure, Baylor, vs. George Mason, Nov. 24, 2018; 100 (8-8); Kawanise Wilkins, Western Michigan vs. Southern Nov 23, 2018
Assists – 11, Austin Dasent, Savannah State, vs. Grambling, Nov. 26, 2016
Steals – 6, Paris Connors, Jackson State vs. Omaha in OT, Nov. 25, 2017
Blocked Shots – 4, Justin Tuoyo, Chattanooga vs. Alabama State, Nov. 27, 2015