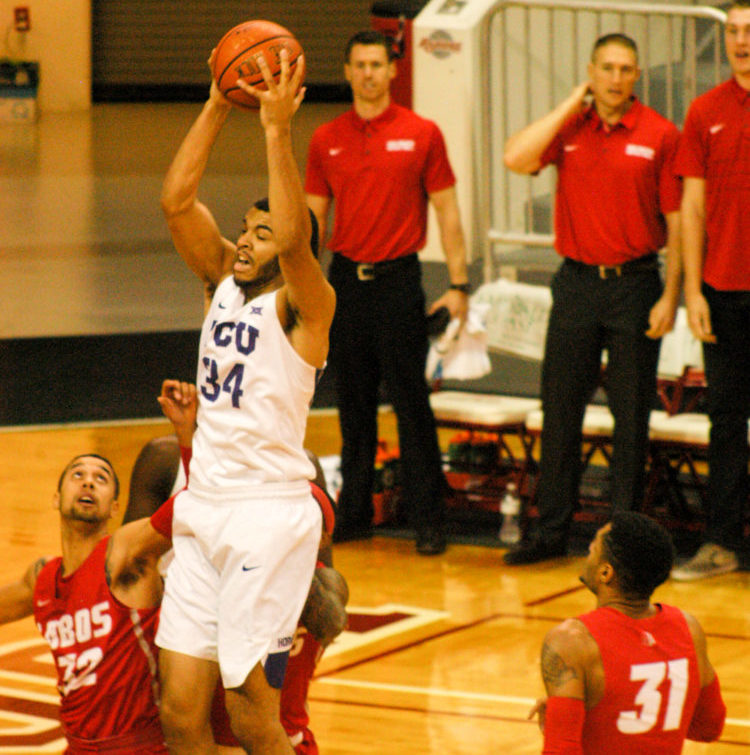 NICEVILLE, FLA. – TCU, missing five of its last six shots to close the game, survived a semifinal round test in the Emerald Coast Classic beating New Mexico, 69-67, Friday night.
The Lobos' Chris McNeal missed a three-point shot from the right wing just before the buzzer sounded allowing TCU to escape with its ninth straight victory dating back to last season when it captured the NIT championship.
"This was a good win in the tournament and we look forward to playing in championship," said TCU coach Jamie Dixon. "We have a quick turn around."
TCU will meet the winner of the semifinal round game between Maryland and St. Bonaventure which was played late Friday night.
Senior forward Kenrich Williams enjoyed his 23rd career double-double to lead TCU with 23 points and 17 rebounds.
"We see it all the time. He (Kenrich) was the guy who played with most poise on the offensive end," Dixon added. "He's the senior. He led with his actions and play…but we're relying on him too much."
New Mexico opened the game with full-court pressure defense, keeping TCU on its heels while jumping to a 9-2 lead with 17:46 left in the first half.
Trailing 23-20, a layup by Williams started an 11-1 run that gave TCU a 31-24 lead that it would never relinquished.
TCU enjoyed a pair of 13-point leads in the second half before New Mexico roared back eventually pulling within 69-67 following a three-point basket from the left baseline by McNeal with 10.8 seconds left.
TCU's Desmond Bane missed two free throws with 6.2 seconds left giving New Mexico a last chance opportunity to either send the game into overtime or win.
"I don't believe in moral victories but that's as close as one," said first year New Mexico coach Paul Weir. "Tip you cap to TCU. They are big and a good rebounding team. They continued to punish us inside."
The Lobos forced TCU into 16 turnovers, scoring 16 points off those miscues.
"We would have liked to have knocked down one or two more shots, "Weir added. "But we were plus-seven in turnovers and that helped shrink the gap and open the door."
Sam Logwood scored a career-high 27 points for New Mexico, including 14 in the first half. McNeal and Antino Jackson added 12 apiece for the Lobos.
TCU shot just 34.3 percent from the floor, making 23 of 67 shots. But the Horned Frogs controlled the glass, outrebounding New Mexico, 46-35.
"We got it done on the glass," added Dixon. "We struggled offensively but our defense was good."
Bane finished with 11 points, while guard Jaylen Fisher had 10 points, five assists and three steals.
TCU recorded a season-high nine blocked shots with JD Miller tying a career high with five rejections