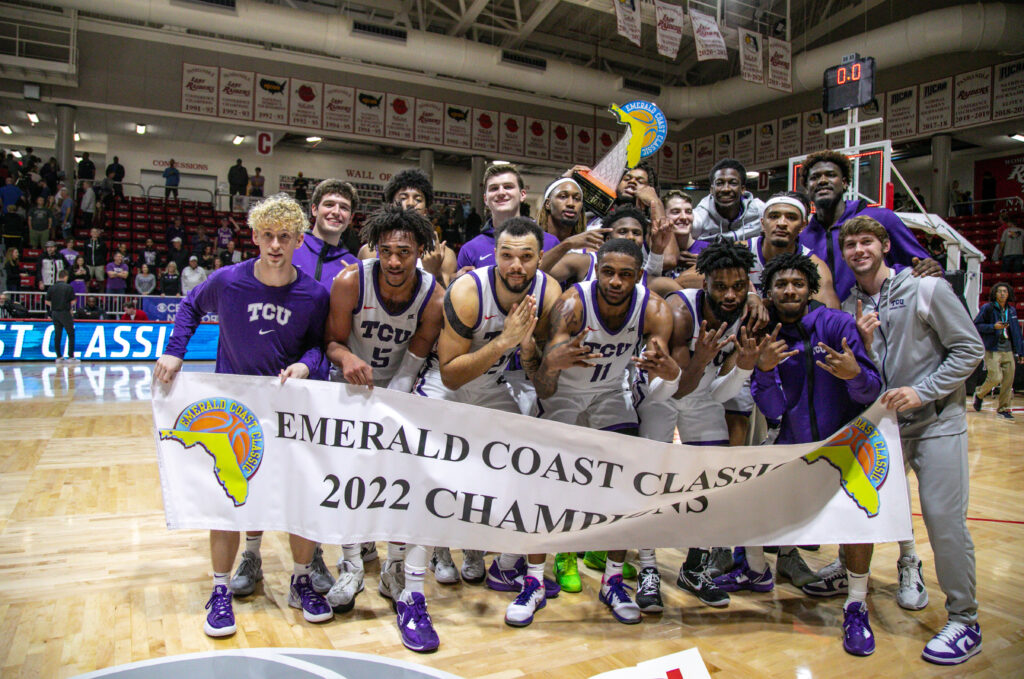 NICEVILLE, FLA. — TCU shot a season-high 54.8 percent from the field and held No. 25 ranked Iowa to 34.3 percent in the second half to pull away to a 79-66 victory in the championship of the Emerald Coast Classic Saturday.
The Horned Frogs just missed being ranked in the the current Associated Press top 25 poll, receiving the 26thmost votes. But TCU, which moved to 5-1, should draw notice when the new poll is released.
"I'm certainly excited about our guys and how we played," said TCU head coach Jamie Dixon. "They played their hearts out and really stuck with what we wanted to do. They really executed the offense until we finally got some stops against a great offensive team in Iowa.
TCU held the Hawkeyes to a season-low three 3-pointers made.
"We obviously knew how good they were and how balanced they were offensively," Dixon said. "In the second half, our ball pressure seemed to wear them down and we did a better job around the basket contesting shots. I think that is where the game kind of turned."
Led by Mike Miles Jr. and Micah Peavy, the Horned Frogs led by as many as 23 points in a win over the Hawkeyes (5-1).
Peavy tied a career-high with 16 points and had eight rebounds. Miles, the preseason Big 12 Conference Player of the Year, scored 15 points and had five assists to back up his 23-point performance in Friday's semifinal win over Cal.
"He (Miles) played really well today but I really love with what Mike is doing and how he is playing defensively," Dixon added. "He's just been tremendous and that says a lot about the kid. He took two charges today and another charge yesterday. He's trying to do the things we ask and we are just lucky that we have him."
Guard Tony Perkins tallied a team-best 15 points for Iowa. He also equaled a season high with three steals, all credited in the first half, and blocked a personal-best two shots.
Iowa guard Ahron Ulis netted a season-best 15 points, reaching his season high in the first half.
The Horned Frogs captured the 2017 Emerald Coast Classic during Dixon's first year as coach at the school.
"I've been here twice now and won two championships," said Dixon. "Everyone loves this area and it's a big Fort Worth area too. It's just a really great setup. It's well run, it's a great place, the hotel situation and the facilities are perfect for an event like this. I think it's continued to grow.…it just seems like it's getting better and better."
The first half was a game of runs with TCU bolting out to a 9-0 lead only to have Iowa respond with an 11-2 scoring spree for the first of four ties in the first half.
TCU went on an 8-1 run to enjoy a 36-29 advantage following two free throws by Rondel Walker with 1:59 left in the period. But Iowa closed the half with a 5-0 run.
A dunk by Eddie Lampkin Jr. capped a 15-6 run to go up 60-47, with 11:44 to play. Iowa did not get closer than 13 points the rest of the way.
"Collectively, they (TCU) were real physical with their defense," Iowa coach Fran McCaffery said. "It affected us throughout the course of the game. Also, we started quick-shooting the ball."
The Horned Frogs dominated the glass, outrebounding the Hawkeyes, 41-28.
Xavier Cork tied a career high with 10 points. Lampkin had his best game of the season with eight points, a team-high nine rebounds and three assists, which tied a career-high.