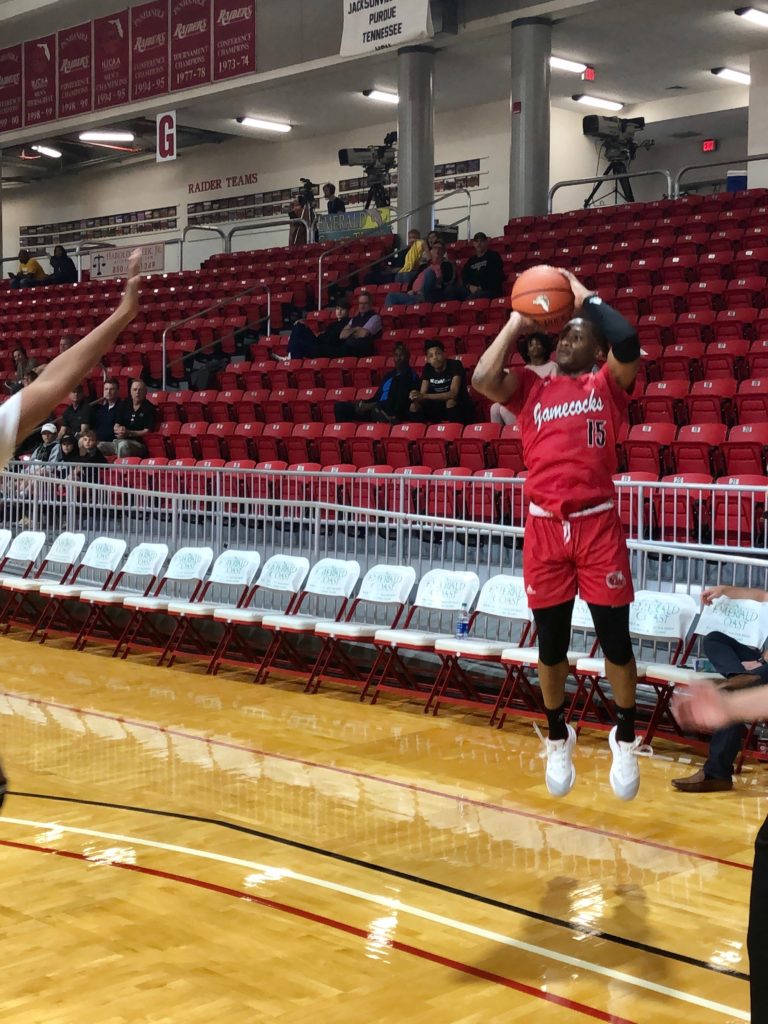 NICEVILLE, FLA. – Junior guard Derek St. Hilaire scored a career-high 22 points, including the final seven points for Jacksonville State, as the Gamecocks held off Chicago State, 71-62, in the consolation round of the sixth annual Emerald Coast Classic.
Jacksonville State, which improved to 2-3, will play the winner of the Alabama State-Chattanooga game at 12:30 p.m. Saturday.
"We have to be a lot better tomorrow," said Jacksonville State coach Ray Harper. "We had too many breakdowns defensively. Offensively, we went through too many droughts. Some guys made some plays late in the game. But, we just need more energy defensively than what we had today."
St. Hilaire, who made seven of 10 shots from the floor, tallied 17 points in the second half.
"I thought Derek (St. Hilaire) played well," Harper added. "He was the one guy I thought played with a lot of energy and toughness. The one where he chased down the shot was just an energy and effort play. That's who we have to be if we are going to be successful."
Sophomore guard De'Torrion Ware came off the bench collecting 14 points and a team-high seven rebounds for Jacksonville State.
Junior guard Andrew Lewis led Chicago State (3-5) with 18 points, while junior guard Michael Johnson netted 13 points. Junior center Solomon Hunt had 12 points and a game-high 11 rebounds for the Cougars.
A three-point basket by Xaiver Johnson gave Chicago State its only lead of the game at 46-45 with 11:36 left.
St. Hilare's layup gave Jacksonville State a 51-49 lead it wouldn't relinquish.
Jacksonville State shot 49 percent from the floor, making 24 of 49 shots. Chicago State hit 47.9 percent (23-48). Both teams collected 28 rebounds.
Jacksonville State got off to a quick start, leading by as many as eight points. Chicago State tightened up on defense and were efficient from three, going 4 for 8 in the half.
Chicago State went on a quick 6-0 run to get within two, 34-32. Junior guard Andrew Lewis had 13 points in the first half for the Cougars who shot 50 percent in the first half (11-22).
Clinging to a 36-32 halftime lead, the Gamecocks struggled from floor to start the second half, making just 1 of its first 7 shots from floor.