NOTE: MEDIA covering the Emerald Coast Classic please make sure to apply for credentials at this link:
https://emeraldcoastbb.wpengine.com/wp-content/uploads/2017/12/Press-Credential-Form.pdf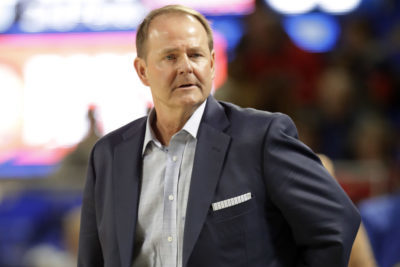 UPCOMING SCHEDULE
(Central time listed)
Saturday, Nov. 3 Games
Kalamazoo at Western Michigan (Ex.), 2 p.m.
Tuesday Nov. 6 Games
Penn at George Mason, 6 p.m., ESPN +
Detroit at Western Michigan, 6 p.m.
Mississippi College at Nicholls State, 7 p.m.
Southern at Alabama, 7 p.m. SEC Network
Texas Southern at Baylor, 8:30 p.m., Fox Southwest Alt.
Wednesday Nov. 7 Games
Ohio State at Cincinnati, 6 p.m.
Thursday, Nov. 8 Games
Nicholls State at Louisville, 6 p.m. ACC Network
Friday, Nov. 9 Games
North Carolina Central at Clemson, 6 p.m.
American at George Mason, 6 p.m. ESPN +
Saturday, Nov. 10 Games
Western Michigan at Ole Miss, 3 p.m., SEC Network
Southern at Baylor, 5 p.m.
RIBBON CUTTING CEREMONY ENDS WITH WIN: Cincinnati rolled to a 68-41 exhibition victory past Tusculum in its first basketball game in the newly renovated Fifth Third Arena Thursday.
But Bearcats coach Mick Cronin was not especially please that UC took so long to get rolling.
Cincinnati led 42-36 before using a 20-0 scoring surge, which gave the Bearcats a 62-36 lead with 3:43 left.
BUILDING AROUND NEW FACES: The 2018-19 basketball season for the Baylor Bears begins next week on November 6th as they host Texas Southern in their home opener.
The Baylor Bears will look very different than the last time fans saw them as they are losing four key seniors and will be without guard Jake Lindsey for the season after hip surgery. Gone are two year starting point guard Manu Lecomte, wing Nuni Omot, forward Terry Maston, and center Jo Lual-Acuil.
Those four accounted for 51.5 points, 20 rebounds, 2.5 blocks and 6.9 assists. Their top 4-scorers, top two rebounders, top shot-blocker, and top-2 assist men will not be on the active roster for this season. The production lost is staggering for the Bears if you include Lindsey, transfer Tyson Jolly, and walk-on Jonathan Davis.
Overall the Bears return just three rotation players with experience in shooting guard King McClure, forward Mark Vital, and forward Tristan Clark. The rest of the Bears starting lineup and rotation are likely to be brand new
DAY-TO-DAY PROCESS FOR OLE MISS: Kermit Davis is closer to getting his first season at Ole Miss underway, but first he had to answer a few more questions during the recent SEC Media Days in Birmingham, Ala.
A lot of attention is on Davis as he enters his first season at the helm of a Southeastern Conference team after spending 16 years at Middle Tennessee. The Mississippi native has to constantly remind himself not to get too caught up in the emotion.
"I just think, not to be sped up," Davis said. "The biggest thing I would tell myself every day as you take the Ole Miss job is you have to live in the moment. You can't start trying to think about what may happen in four, five or six months. It's a day-to-day process. Experience matters, no question. When you're a head coach in the SEC or a player trying to find his way in the SEC, experience matters. The biggest thing is you have to slow the process down, take it day to day and build it that way. If we do it that way we're going to win games."
LONG JOURNEY FOR GEORGE MASON FRESHMAN: Coast-to-coast might have a different meaning for Jamal Hartwell II when it comes to basketball.
The true freshman is roughly four months removed from a SoCal lifestyle, as Hartwell has begun his first semester at George Mason. A native of Inglewood, Calif., Hartwell has the feeling he was meant to play basketball.
"My love for basketball kind of just happened," Hartwell said. "My family always talks about my first birthday. They put out a soccer ball, football, basketball and baseball in front of me and I immediately picked up the basketball. From there on it has always been basketball."
Aside from stating that he is like every other college student, who enjoys playing Fortnite and eating four or five meals a day, Hartwell likes to go about his business and handle whatever tasks are laid out in front of him.
SENIORS READY TO LEAD WESTERN MICHIGAN: It's a whole new ball game for the Western Michigan men's basketball team this season
A really new ballgame.
Four-year standout point guard Thomas Wilder is now playing professionally and center Drake Lamont also graduated from last year's team which went 17-15 overall and 9-9 in the Mid-American Conference.
That means whole new sets of leaders are ready to direct the Broncos for the 2018-19 season and that starts with seniors Josh Davis, Seth Dugan and Bryce Moore. However, Moore may miss the entire season with an injury and Davis and Dugan are also recovering from injuries.
"When you are a leader, people get used to hearing your voice which means you are on the floor and unfortunately, we haven't had any consistency yet with those guys being on the floor," said Western Michigan head coach Steve Hawkins. "That is a bit of an issue.""
PRESEASON POLLS: Defending regular season and tournament champion Cincinnati, receiving three first-place votes, was picked to finish second in the American Athletic Conference preseason coaches poll.
Central Florida, returns eight of its top 10 scorers and four starters from a squad that won 19 games a season ago, edged Cincinnati for the No. 1 spot.
Houston, earning two first-place votes, was picked third followed by Memphis at the No. 4 spot. Rounding out the preseason poll was UConn, fifth; Temple, sixth; SMU, seventh; Wichita Sate, eighth; Tulsa, ninth; Tulane 10th; East Carolina 11th and South Florida, 12th.
ATLANTIC 10: Led by Preseason All-Conference First Team guard Otis Livingston II, George Mason garnered 287 poll points and a first-place vote to rank fourth in the Atlantic 10 Conference preseason poll chosen by a panel of the league's head coaches and select media members.
Saint Louis, earning 15 first-place votes, was selected as the champs in the poll.
Saint Joseph's, with four first-place votes, was picked second. Defending champion Davidson, receiving six first-place votes, was third in the poll.
Defending regular season champion Rhode Island was slated to finish fifth, while Dayton was sixth and VCU seventh. Massachusetts, St. Bonaventure and Richmond finished eighth, ninth and 10th in the poll, while Duquesne, La Salle, George Washington and Fordham rounded out the preseason rankings, respectively.
MID-AMERICAN CONFERENCE: Western Michigan was picked to finish fourth in the Mid-American Conference West Division preseason poll as voted on by the leagues' head coaches and media.
The Broncos received 81 points in the west division and one first place vote. Eastern Michigan was the favorite to win the west division with 17 first-place votes followed by Ball State with 11 and defending MAC West champion Toledo with five. Northern Illinois was chosen fifth followed by Central Michigan.
Buffalo is the preseason favorite to win the MAC regular season and tournament championship. The Bulls received all 35 first-place votes to win the east division and 25 votes to win the conference tournament.
MEAC: North Carolina Central, garnering 217 points, was selected to finish second in the preseason Mid-Eastern Athletic Conference poll as picked by he head coaches and sports information directors. Bethune-Cookman, tallying 237 points, was the picked to win the league title. Norfolk State was tabbed third with followed by Howard and North Carolina A&T
SOUTHLAND CONFERENCE: Nicholls State, which earned a share of the Southland Conference regular season title last year, tied with Houston Baptist for the 10th spot in the Southland Conference preseason coaches and sports information directors poll.
Stephen F. Austin was the preseason favorite to win the league. Last year's co-champion Southeastern Louisiana is tabbed to finish second, while New Orleans was picked third.
Abilene Christian was chosen fifth followed by Lamar, Sam Houston State, McNeese Sate and Central Arkansas. Texas A&M-Corpus Christi was pegged for the ninth. Northwestern State was predicted to finish 12th followed by Incarnate Word.
SOUTHWESTERN ATHLETIC CONFERENCE: Southern was predicted to finish sixth in the preseason Southwestern Athletic Conference poll conducted by the league's head coaches and sports information directors.
Grambling took the top spot. Texas Southern, which has won the SWAC Championship in four of the previous five seasons and earned a 64-46 play-in round victory against North Carolina Central in the 2017 NCAA Tournament in Dayton, Ohio, was projected second. Arkansas-Pine Bluff was selected third followed by Prairie View A&M, fourth and Alabama State fifth.
Southern forward Sidney Umude was selected to the preseason all-conference second team. Arkansas-Pine Bluff guard Martaveous McKnight was named the preseason player of the year.
Headlines
BAYLOR
Oct. 23 — ESPN's Big 12 Preseason Power Rankings
Oct. 23 — Big 12 Media Day
OCT. 3 — A Mystery Entering Season
Sept. 27 — Freshman Gets NCAA Waiver to Play
CINCINNATI
Nov. 2 — Bearcats Post 68-41 Exhibition Win
Nov. 2 — Renovated Arena Impressive
Nov. 1 — Bearcats to Unveil Renovated Arena
Oct. 24 — High Hopes For Freshman Point Guard
Oct. 17 — Sporting News Tabs Bearcats to Win League Title
Oct. 16 — American Athletic Conference Tipoff Media Day
Oct. 15 — AAC preseason power rankings
Oct.10 — 7 Questions Entering Season
Oct. 7 — Broome Projected Among Nation's Top Breakout Players
Sept. 27 – Analyzing Schedule
Sept. 26 – Questions Surround New Frontcourt
Sept. 18 — 15 Breakout Players to Know
Sept. 8 — Cincinnati Among Top 10 Projected Defenses in Nation
GEORGE MASON
Nov. 1 — Defensive Effort Keys Exhibition Win
Oct. 30 — Patriots Host John Hopkins in Exhibition
Oct. 18 — Patriots Earning Notice in Atlantic 10
Oct. 17 — Sporting News Tabs Patriots 3rd in Preseason League Poll
Oct. 25 — How 2006 NCAA Final Four Impacted George Mason
Oct. 18 – Atlantic 10 Conference Preview
Oct. 18 — Patriots Picked 4th Livingston II Preseason All-League Choice
Oct. 10 — Kier Gives Preseason Update (video)
Oct. 9 — Thoughts From Spain
Oct. 4 — NCAA.com Names Mason's Reuter Top-15 Impact Transfer
Oct. 2 — Bolton, Kier Represent Mason at A-10 Leadership Summit
Sept. 27 — NCAA.com's Andy Katz Picks George Mason as National Sleeper Team
OLE MISS
Nov. 2 — Rebels Rumble in Exhibition Win
Nov. 1 — Rebels Host Fayetteville State in Exhibition
Nov. 1 — Davis Era Begins With Exhibition
Oct. 30 – Ole Miss Season Preview
Oct. 30 – Davis Encouraged By Practice
Oct. 29 — Former Players, Coaches Return
Oct. 19 — Ole Miss Excites Crowd In Return of Square Jam
Oct. 18 — SEC Media Day Blog
Oct. 17 — Coach Davis at SEC Media Day Part 1
Oct. 17 — Coach Davis At SEC Media Day Part
Oct. 17 – Davis Touts New Era For Ole Miss
Oct. 3 — Davis Working to Become Elite Defender
Oct. 2 — Davis Era Underway As Practice Begins
NICHOLLS STATE
Oct. 10 — Southland Conference Media Day
NORTH CAROLINA CENTRAL
Oct. 25 – Trio Earns Preseason honors
WESTERN MICHIGAN
Oct. 27 – Dugan Paces Broncos In Exhibition Opener
Oct. 13 – Breakfast With Broncos