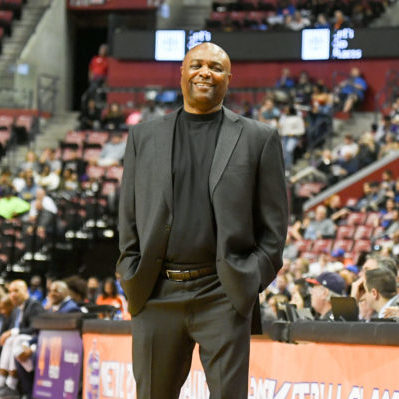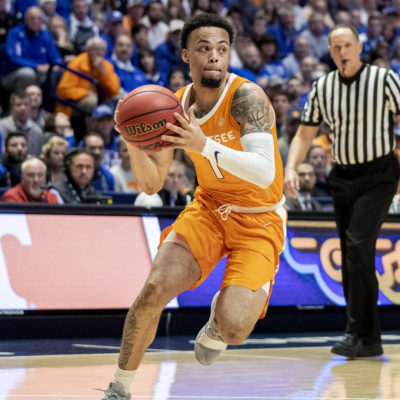 UPCOMING SCHEDULE
All times listed Are Central
Friday, Nov. 29
Jacksonville State vs. Chicago State, 11 a.m. Emerald Coast TV
Alabama State vs. Chattanooga, 1:30 p.m. Emerald Coast TV
Florida State vs. Tennessee, 6 p.m. CBS Sports Network
VCU vs. Purdue, 8:35 p.m., CBS Sports Network
Saturday, Nov. 30
Seventh Place Game, 10 a.m. Emerald Coast TV
Fifth Place Game, 12:30 p.m., Emerald Coast TV
Third Place Game, 3 p.m., Emerald Coast TV
Championship, 6 p.m. CBS Sports Network
BUSINESS TRIP FOR VOLUNTEERS: Jordan Bowden doesn't know what makes his mother's mac and cheese so special.
It's just different, the Tennessee senior guard says, and he wishes he would be eating it Thursday on Thanksgiving. Instead, the Knoxville native and his teammates will be in Florida for the Emerald Coast Classic.
"It's about business now," Bowden said.
No. 16 Tennessee (5-0) faces Florida State (5-1) on Friday (7 p.m. ET, CBS SN) in its first game of the tournament. The Vols will see either Purdue or No. 19 VCU in their final game on Saturday, when they will play either for a championship or a third-place finish.
"We are going to go down there and we are going to compete," guard Lamonte Turner said.
The Emerald Coast Classic is the fifth straight holiday tournament the Vols have played in under coach Rick Barnes. UT was swept at the Barclays Center Classic in Barnes' first year, then finished seventh at the Maui Invitational in 2016.
SEEKING IMPROVEMENT DURING THANKSGIVING: Purdue head coach Matt Painter wants his team's inside presence to become more of a factor as the season progresses.
The need to look inside has become a focal point during the team's practice, especially as it prepares for an a challenging slate of games that arrive just after the Thanksgiving break. The team displayed progress in that effort in its 81-49 win over Jacksonville State.
"It's something that we've really harped on," Painter said in his post-game on Saturday. "We go too long periods of time were we don't throw the ball inside, whether those guys are diving or posting up, that's got to be a big part of our offense. It gives us a balance, so that was something that we really harped on."
Matt Haarms finished with a double-double of 17 points and 10 rebounds. He connected on 6-of-10 shot attempts and drew a game-high eight fouls.
The learning curve to finding the Boilermakers' big man can sometimes be a challenge for newcomers.
"Each guy is a little bit different with how in terms of what they see and how they can deliver it," Painter added. "Their experience of being able to pass to big guys. Some guys that are young don't have that experience and haven't been with guys of that size. I always thought it was pretty easy hitting a 7'3 guy rolling to the basket, but you'd be surprised."
Purdue will return to action on Friday, the day following Thanksgiving, when it faces VCU in Emerald Coast Classic held in Destin, Fla. The Boilermakers will also face either Tennessee or Florida State in the event. It returns home on Dec. 4 to host No. 7 Virginia.
"We'll have four more practices," Painter said on Saturday.
The goal for this time away from games will be to make notable improvements.
"We've got to get better here," Painter said. "It's really hard when you start playing a lot of games because then you've got to make improvements through competition, which you still can. But in college, when you get a chance to practice early in the season you've got to make some strides.
YOUNG AT HEART: FSU basketball coach Leonard Hamilton confirmed he never ages by doing the popular Twitter 10-year challenge.
Every college basketball season, fans and media marvel at how young Hamilton looks despite turning 71 in August.
Hamilton used his personal Twitter account to highlight his good genes, comparing a photo of himself from 2009 versus 2019.
The pictures look almost identical. He added a message that read, "I promise these photos are accurate. Told y'all about the Ham Sauce."
During the 2018 NCAA Tournament, Hamilton was 69 years old and asked how he has aged so gracefully. He noted he doesn't drink or smoke and tries to eat well, but he also suggested mentoring basketball players keeps him young.
"I think my mother was 97, and obviously she passed some pretty good genes down to me," he said during a news conference in March 2018 ahead of FSU's Sweet 16 matchup with Gonzaga in Los Angeles.
"But I think more than anything else I enjoy what I do. I don't really feel stressed or pressured. I really enjoy working with young people. I think the most important thing that we do is we take youngsters when they're teenagers, and we nurture them into young adulthood.
"I think sometimes as coaches the pressure to win and win championships, where I have plenty of rings, plenty of watches, Coach of the Year awards, but I get more excited when I'm invited to their wedding, when they ask me to be the godfather of their kids, when they call me and ask me for personal things that are going on in their life or decisions they need to make. To me, what type of husbands, fathers, neighbors and citizens they become are probably the paramount thing that we do.
EVANS LEADS VCU TO BEST START IN SCHOOL HISTORY: When redshirt-senior guard Marcus Evans rolled into today's shootaround, coach Mike Rhoades noticed something different in Evans' legs since his injury last season.
"I said to him today in shootaround, the way he was shooting the ball and moving around off his feet, I said, 'your legs look a lot stronger, you like you're feeling well,'" Rhoades said.
Little did the two know, Evans would erupt for 25 points — tying his career high at VCU — just a few hours later.
Evans led the Rams to their first 6-0 start in program history as the black and gold defeated Alabama State 78-62 on Monday night to cap team's six-game homestand.
Rhoades said Evans' play was huge for his team today, but the coach added his redshirt-senior's performance wasn't anything he hasn't seen from Evans in the five years they have been together.
UNSELFISH SENIORS: As the two senior leaders for Tennessee basketball, Lamonte Turner and Jordan Bowden earned their place in Vols history Wednesday night as they each reached the 1,000-point club in the program en route to the team's dominant victory over the Alabama State Hornets. It was fitting for these two to reach it on the same night.
Turner and Bowden have had to deal with similar issues since they arrived on Rocky Top. But for both of them, one thing is a constant: they reached this rare club by being unselfish the entire time. And that's a major tribute to them.
Take Turner, for instance. He was recruited as a combo guard. Then he missed his first season on campus and took a redshirt due to injury. Since then, he has gotten better every year. But as a sophomore, he was relegated to the bench. He accepted his role as a backup guard and still managed to average double-figures off the bench.
A year later, Bowden was the one moved to the bench in favor of Turner despite Turner being hurt early in the year. Rick Barnes preferred to players who could run the point on the court at the same time. Bowden accepted his role and provided the necessary scoring punch off the bench.
This year, Bowden is still transitioning to the go-to scorer, and Turner is transitioning to the full-time point guard. Both will get help when Josiah-Jordan James develops this year, but they're the focus of Tennessee basketball right now. And that has something they have earned.
CAPITALIZING ON TURNOVERS: Earlier this season, coach Mike Rhoades said his team needed to capitalize on turnovers by scoring on the other end of the plays.
Through the first two games, the Rams forced 19 turnovers against St. Francis (Pa.) and 18 against North Texas, but scored 20 points off the errors in each game. VCU outscored St. Francis and North Texas in points off turnovers, but only a combined 40-33.
The tide turned for the black and gold when they forced 26 turnovers against LSU, scoring 37 points off them. In the last two games against Jacksonville State and Florida Gulf Coast, the Rams outscored their opponents 64-20.
Rhoades said the team worked on taking advantage of turnovers in practice.
"I've been stopping it a lot when we get a turnover in practice, and we don't convert and just holding our guys more accountable," Rhoades said.
In Saturday night's win over Florida Gulf Coast, the Rams forced 27 turnovers, off of which they scored 37 points. The Rams turned over the ball a season-low eight times, only allowing the Eagles to score 3 points on the errors.
PURDUE STRESS MOVEMENT: "Move! Move! Move!" can be heard any time Purdue head coach Matt Painter paces the sideline.
The Boilermaker coaching staff preaches moving without the ball. When players move without the ball, the idea is that players get open and all their teammates have to do is make the pass. In Saturday night's 81-49 victory against Jacksonville State, the Boilers performed from the tip-off to the final whistle.
Against most teams, Purdue has an advantage down low. The Boilermakers have 7-foot, 3-inch junior center Matt Haarms, who is a matchup nightmare. They also have sophomore Trevion Williams, who has a strong touch inside and a solid post game. One of Purdue's issues this year has been getting the ball to these two.
"From an offensive standpoint, just trying to establish an inside presence and getting the ball inside, that's something we harped on," Painter said. "We go too long periods of time where we don't throw the ball inside."
SOLIDIFYING SPOT IN ROTATION: Center Dominik Olejniczak made splashes for the Florida State men's basketball team last week in a pair of wins against Chattanooga and Saint Francis.
The graduate transfer from the University of Mississippi tallied 10 points in the team's 89-53 victory over the Chattanooga Mocs this past Wednesday, despite only being on the court for eight minutes. He was the driving force behind a Florida State bench that contributed 51 points in the win, by far their highest total this season.
Following the win, Olejniczak said he was pleased with the contributions he made as he works his way back from a calf strain suffered before the start of the season.
"It's very good to be back and help the guys just play basketball," Olejniczak said. "Today was pretty much the first day I was able to go without pain, a hundred percent, so from here I can just build on that."
True to his word, Olejniczak built on Wednesday's strong performance and started Saturday's game against the Saint Francis Red Flash. This was his first start of the young season, as well as the first time a center has started a game for the 'Noles this year after opting for a third guard in each of their first four games.
WELCOME ABOARD STEFAN: The Chattanooga Mocs are back in action Friday and Saturday at the Emerald Coast Classic. They take on Alabama State in first round action Friday at 2:30 p.m., Eastern time, in Raider Arena on the campus of NW Florida in Niceville. That result dictates the next matchup against either Chicago State or old friend Jacksonville State Saturday (11 am or 1:30 pm).
Chattanooga got a big addition to the roster Monday night with news from Indianapolis. The NCAA approved the waiver appeal for Cleveland State transfer Stefan Kenić. The junior forward is immediately eligible. He started 59 of 66 games in his two seasons with the Vikings averaging 9.3 points per game.
"We're excited for Stef," Coach Lamont Paris shared. "He's a really high-character guy who just wants to compete and be good at basketball while enjoying the college experience.
"We're not putting any expectations on him as a player heading into this weekend. He hasn't played a minute of college basketball this season. We are really happy for him and for our group. I don't like the word deserved, but the NCAA made the right decision, and we're glad to have him available this year."
HEADLINES
FLORIDA STATE
Nov. 26: Seminoles Ascend In Bracketology Project
Nov. 26: Baseline Breakdown
Nov. 26: Florida State's Bench Goes Bananas
Nov. 26: Three-Game Changing Plays In Chicago State Win
Nov. 25: Seminoles Roll To Home Arena Romp
Nov. 25: Video Highlights From Chicago State Win
Nov. 25: Hamilton One Of Nation's Top Recruiters
Nov. 24: Game Preview: Chicago State At FSU
Nov. 24: Game Preview: Chicago State
Nov. 24: Patrick Williams: Who Is His Best Player Comparison?
Nov. 23: Seminoles Roll Past Saint Francis
Nov. 23: Making Most of Chances
Nov. 22: Seminoles Look Toward Continued Development
Nov. 22: Game Preview: Saint Francis (Pa.) At FSU
PURDUE
Nov. 27: Purdue Faces VCU
Nov. 26: Painter Previews VCU Game
Nov. 25: Mobility, Shooting Stops Jacksonville
Nov. 23: Boilermakers Blitz Jacksonville State
Nov. 23: Purdue Rolls Past Jacksonville
Nov. 23: Boilermakers Dominate Jacksonville
Nov. 22: Purdue Begins Gauntlet Vs. Jacksonville State
Nov. 21: Four Things To Know About Jahaad Proctor
TENNESSEE
Nov. 27: Plavsic Receives Waiver To Travel
Nov. 27: English Making Mark On Vols Staff
Nov. 26: Game Notes vs. Florida State
Nov. 26: Vols Scrape By Chattanooga
Nov. 26: Offense Struggles in Win
Nov. 25: Post-Game Quotes From Coach Barnes
Nov. 25: Vols Hold Off Chattanooga
Nov. 25: Vols Extend Home Winning Streak To 30 Games
Nov. 25: Takeaways From Win Over Chattanooga
Nov. 23: Vols Host Chattanooga
VCU
Nov. 26: Coach Rhodes Weekly Press Conference
Nov. 25: Rams Off To 6-0 Start
Nov. 23: Rams Force 27 Turnovers, Routs Florida Gulf Coast
Nov. 23: Stifiling Defense Propels Win
ALABAMA STATE
Nov. 25: Late First Half Run Dooms Hornets
Nov. 25: Ewuosho Named SWAC Player Of Week
Nov. 24: Hornets Prepare For VCU
CHATTANOOGA
Nov. 25: Mocs Battle Tennessee To Wire
Nov. 25: Post-Game Notes At Tennessee
Nov. 25: Post-Game Quotes At Tennessee
Nov. 24: Mocs Head To Tennessee
JACKSONVILLE STATE
Nov. 23: Gamecocks Fall At Purdue
Nov. 22: Gamecocks Prepare For Purdue