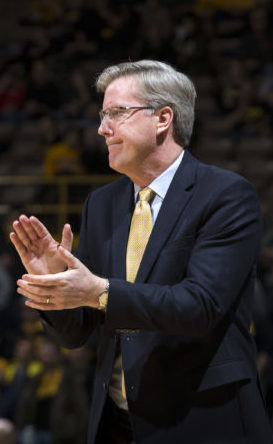 Upcoming Schedule For Participating Teams
(All times listed are central)
Friday, Nov. 25
Savannah State vs. St. Francis Brooklyn, 11 a.m.
Grambling vs. Texas Rio Grande Valley, 1:30 p.m.
Virginia vs. Iowa, 6 p.m., CBS Sports Network
Providence vs. Memphis, 8:30 p.m. , CBS Sports Network
Saturday, Nov. 26
Loser of Grambling/UTRGV vs. Loser of Sav. State/St. Francis Brooklyn, 10 am
Winner of Grambling/UTRGV vs. WInner of Sav. State/St. Francis Brooklyn, 12:30 p.m.
Loser of Virginia/Iowa vs. Loser of Providence/Memphis, 3 p.m.
Winner of Virginia/iowa vs. Winner of Providence/Memphis, 6 p.m. CBS Sports Network
NCAA LEADERS TO SHARE SPOTLIGHT: The third annual Destin Realty Emerald Coast Classic will feature four players who lead the NCAA statistical leaders through the first two weeks of the college basketball season.
If that's not enough four schools – Memphis, Savannah State, St. Francis Brooklyn, Virginia — lead the NCAA in four different team categories.
No. 7 ranked Virginia leads the nation in scoring defense, allowing just 38.8 points per game. The Cavaliers also rank No. 2 in field goal percentage defense, limiting opponents to just 28.9 percent shooting.
Memphis leads the NCAA in team assists per game at 25.8, while ranking No. 5 in the NCAA in team assist turnover ratio at 2.10.

St. Francis Brooklyn leads the NCAA in three-point field goal percentage defense, limiting opponents to just 16.0 percent shooting beyond the arc (4-25).
Savannah State leads the NCAA in team three-point field goals made per game averaging 17.4.
Memphis sophomore swingman Dedric Lawson is tied for the NCAA lead for most double-doubles collecting four through the Tigers' first four games. Lawson also ranks eighth in rebounding, averaging 12.3 boards per game.
Iowa senior Peter Jok is tied for the NCAA lead in free throw percentage at 100 percent, making all 12 free throw attempts.
Savannah State freshman Casey Wells leads the NCAA in most three-point baskets made at 22 in five games.
Providence point guard Kyron Cartwright leads the NCAA in assists with an average of 9.3 per game.
Cartwright has handed out eight or more assists in each of his first three games, including a career-best 12 against Vermont a week ago. He compiled eight or more assists only three time all of last season.
For the last two seasons, Providence coach Ed Cooley could rely on Kris Dunn, the two-time Big East Player of the Year one of the best players the program has ever seen, to do everything a point guard needs to do to run an offense. He distributed. He took care of the ball. He scored prolifically.
The graduation of Dunn left the offense in the hands of Cartwright, who played in more than 30 games in each of the last two seasons but is a backup no more. He won't be expected to score like Dunn, but he'll be expected to get the ball into the hands of those who can.
LEARNING WILL BE A PROCESS FOR IOWA: Fran McCaffery expects a long learning curve for his young Iowa basketball team.
In many ways, that is business as usual, reports Steve Batterson from the Quad City TImes.
"Last year we had an experienced team and the Villanova game (in the NCAA tourney), we're still trying to get them to do exactly what we need them to do,'' McCaffery said. "That's what coaching is, and getting them to know and understand the anatomy of the game.''
Those anatomy lessons can change from one opponent to the next, as the strengths of the opposing team differ.
The Hawkeyes moved to 3-1 on Sunday with a win over a Texas-Rio Grande Valley team that thrived on the drive and preferred to push the pace.
Friday in the semifinal round of the Emerald Coast Classic in Destin, Florida, the challenge in the 6 p.m. game comes from a seventh-ranked Virginia team built around defense.
"Every game is different,'' McCaffery said. "Is it a fast game? Is it a slow game? Are they pressing? Are they zone? Are they trapping? Are they switching? Are they reacting accordingly?''
VIRGINIA READY FOR TOUGHER TESTS: Jeff White from VirginiaSports.com says Virginia expects to encounter much tougher competition than they've faced so far this season when they compete in the Emerald Coast Classic.
After they posted another convincing victory Tuesday night at John Paul Jones Arena, it was time for members of the University of Virginia men's basketball team to pack. The Cavaliers are heading south for the holiday.
In Florida, where the Wahoos will celebrate Thanksgiving, they'll experience temperatures much warmer than those back in Virginia.
Through four games, seventh-ranked Virginia is 4-0, with an average margin of victory of 36.3 points. Those four opponents play in the Southern Conference, Northeast Conference, Ivy League and Southwestern Athletic Conference, respectively.
"We have lots of room for improvement, but it's been solid so far," junior swingman Marial Shayok said Tuesday night after UVA's 90-34 win over Grambling State at JPJ.
A more challenging stretch of the schedule begins Friday, when Virginia faces Iowa (3-1) at 7 p.m. in the Emerald Coast Classic in Niceville on Florida's Gulf Coast. The Hawkeyes' standouts include 6-6 senior Peter Jok, who's averaging 24.3 points per game.
PROVIDENCE NEARS FULL STRENGTH: Bill Koch from the Providence Journal writes how Friars coach Ed Cooley expects his team to be at full strength for the Emerald Coast Classic this weekend.
A pair of hurting starters and the return to action of a potentially key reserve caused Cooley to shuffle his lineup Monday night against St. Francis Brooklyn.
Emmitt Holt (hamstring) dressed but did not play, Ryan Fazekas (ankle) saw limited minutes and Drew Edwards (knee) made his season debut in the Friars' 64-48 win over St. Francis Brooklyn, a game that proved to be the perfect time to do some tinkering.
Holt suffered what Cooley called a "tweak" in Saturday's 71-54 win over Grambling State, the third time in as many games where Providence's junior college transfer has hit double figures. Holt's 17 points on 5-for-9 shooting against the Tigers were consistent with his averages to date, and Cooley expects Holt to be available this weekend in Emerald Coast Classic games against Memphis and either Iowa or Virginia.
Fazekas should also be good to go by Friday night's game against the Tigers after starting and playing 18 minutes against the Terriers. He had six points, three rebounds and two steals and is now 9-for-20 on 3-pointers after battling through an uneven debut in 2015-16.
"[Holt] was able to go, but we didn't want to put him in a situation where to hurt himself more," Cooley said. "Ryan twisted his ankle pretty good yesterday, so he was kind of on half of a foot."
BOOST FROM BENCH: Phil Stukenborg from the Memphis Commercial Appeal writes how Memphis sophomore guard Craig Randall didn't seem surprised by his recent career high 21 points, coming off the bench in a win against Savannah State Saturday.
During a 27-minute stint off the bench — easily the longest of the five reserves who played — Randall went 7-of-12 from the field, including 5-of-9 from beyond the arc. He also had four assists, a block and a steal.
Randall said he's prospering early in the season because of new coach Tubby Smith and his staff, one that trusts him and his abilities and a staff whose philosophies Randall embraces.
"They're always telling me 'next play, next play,' " he said. "Don't dwell on the past."
Smith liked what he saw of Randall last weekend from another perspective: using his non-dominant hand to set up teammates in the post and, in effect, catch defenders off guard.
DIAKITE SHOWS PROMISE IN THE POST: Jerry Ratcliffe writes about the development of Virginia center Mamadi Diakite whose first exposure to basketball wasn't exactly electrifying back in Africa.
He fancied himself a soccer star and believed that was his future. Then he started growing.
At 6-foot-9 and with a wingspan of 7-foot-3 ½ inches the last time he checked, Diakite is far removed from those soccer fields in Conakry, Guinea. Instead, he spent Sunday afternoon swatting Yale's shots into the stands at John Paul Jones Arena in helping eighth-ranked Virginia collar the Bulldogs, 62-38.
With Austin Nichols having been shown the Rotunda door for repeated team violations, the opportunity for a more prominent role in Virginia's post rotation opened up for Diakite and he didn't waste it. In 18 minutes off the bench, he scored seven points (2-4 FG, 1-2 FT), grabbed five rebounds and blocked four shots.
His back-to-back swats midway through the second half came amidst a 16-0 Cavaliers run that left previously unbeaten Yale in the dust. In only two home appearances, Diakite is quickly becoming a crowd favorite.
"He made a couple of blocks off the floor … he had two in a row, which brought the crowd to its feet and energized us," UVa coach Tony Bennett said of the back-to-back blocks.
Diakite, with childlike innocence and candor, had a more colorful evaluation of his floor time.
Headlines
Iowa
Nov. 23 Iowa Guards Still Growing
Nov. 22 Hawkeyes Travel To Emerald Coast Classic
Nov. 21 Jok Named Big Ten Player Of Week
Nov. 20 Jok Stuck On Automatic
Nov. 20 Jones Sidelined With Wrist Injury
Nov. 20 Takeaways: Jok Shoots, Bohannon Leads, Moss Gets Buckets
Nov. 19 Iowa Must Shore Up Interior Defense
Nov. 18 Impressions From Iowa's First True Test
Nov. 18 Basketball Youth Learns Lesson
Nov. 18 Iowa Sees "Obvious" Fixes It Needs
Nov. 18 Hawkeyes To Green For Seton Hall
Nov. 18 Iowa Struggles Defensively, At Free Throw Line
Nov. 18 3 Takeaways From Seton Hall
Nov. 18 After Thoughts On Seton Hall Game
Nov. 18 Defensive Lapses Continue to Plague Hawks
Nov. 18 Iowa Post-Game Seton Hall Press Conference
Nov. 17 Iowa's Miscues Costly
Memphis
Nov. 23 Tiger Podcast: Four And Oh
Nov. 23 Tigers Morning After: The First Four
Nov. 22 Early Run Leads To Wire-To-Wire Win
Nov. 22 Tigers Bear McNeese, Head To Beach
Nov. 21`Tigers Game Day: Ending A Four-Game Homestand
Nov. 21 Tigers Host McNeese State
Nov. 21 Lawson Named To American Conference Honor Roll
Nov. 20 Lawson Brothers Seeing Doubles
Nov. 19 Sweeps Week For Memphis
Nov. 19 Game Day: Raining 3-Pointers?
Nov. 19 Six Reach Double Figures In Win
Nov. 18 Martin Making Favorable Early Impressions
Nov. 18 Tigers Charity Stripe Challenge
Nov. 17 Podcast: Talking Tubby's 2-0 start
Providence
Nov. 23 Basketball Notes vs. Memphis
Nov. 23 Providence Journal Podcast Previews Tourney
Nov. 22 Young Breaks Out
Nov. 22 Bullock, Friars Thrash St. Francis
Nov. 22 PC Rolls Past St. Francis
Nov. 22 Ed Cooley Post-Game St. Francis Press Conference
Nov. 22 Providence Starting Five Hot Topics
Nov. 21 Coming Out Party For Young
Nov. 21 Friars Cruise To 2nd Straight Win
Nov. 19 Friars Victorious In Sloppy Game
Nov. 18 Providence Chemistry To Be Tested
Nov. 18 Six Thoughts Following Ohio State
Nov. 17 Buckeyes Hold Off Friar Rush
Nov. 17 Cooley Finds Road Test Very Informative
Virginia
Nov. 23 Virginia Ready To Battle Iowa
Nov. 23-Guy Quickly Understanding Keys To Success
Nov. 23 Guy's 20 Powers No. 7 Virginia
Nov. 23 Historic Defensive Run For Virginia
Nov. 22 Guy Making Early Impact
Nov. 22 Virginia Throttles Grambling
Nov. 22 Diakite Making His Presence Known
Nov. 22 Virginia Dominates Grambling
Nov. 22 Virginia Crushes Grambling
Nov. 21 Virginia Hosts Grambling
Nov. 20 Cavaliers Whip Yale
Nov. 20 Virginia Shows Strength Beating Yale
Nov. 20 Booting Nichols Not Easy, But Necessary
Nov. 18 UVA Coaches Won't Take Short Cuts
Nov. 18 Nichols Dismissed From Team
Grambling
Nov. 17 Tigers Win Home Opener
St. Francis
Nov. 21 Solid Second Half Falls Short
Nov. 20 Terriers Head To Providence
Savannah State
Nov. 22 Wells Leads Tigers Win
Nov. 21 Game Central: Tigers Host Fort Valley
Nov. 19 Tigers Fall At Memphis
Nov. 18 Game Central: At Memphis
Nov. 18 Tigers Win Home Opener
Texas Rio Grande Valley
Nov. 22 Men's Basketball Falls At Southeast Missouri State
Nov. 18 Men's Basketball Visits Iowa