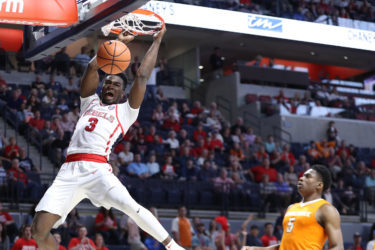 UPCOMING SCHEDULE
(Central time listed)
Friday, Nov. 23 Games
Saturday, Nov. 24 Games
Loser of Nicholls St/NCC vs. Loser of Southern/W. Mich, 10 a.m.
Winner of Nicholls St./NCC vs. Winner of Southern/W. Mich., 12:30 p.m.
Loser of G. Mason/Cincinnati vs. Loser of Baylor/Ole Miss, 3 p.m.
Winner of G. Mason/Cincinnati vs. Winner of Baylor/Ole Miss, 6 p.m., CBS Sports Network
DAVIS SWITCHES GEARS: Terence Davis was due for an off-night offensively.
The senior Ole Miss guard couldn't have asked for a better start to the 2018-19 season. He entered Tuesday game against Nicholls State — a 75-55 Rebel win — leading the SEC in scoring (23.5 points per game) and three-point field goal percentage (63.6 percent). Both marks ranked Top 25 nationally. He scored 30 points in an 83-76 loss at Butler.
Davis was 4 for 12 from the floor, though he converted three of his six three-point attempts. He finished with a team-high 14 points. Basketball is a game of streaks and runs. There are nights when the ball just doesn't go in the basket. Even still, Davis found a way to significantly impact the game, showing the improvement he's made under first-year head coach Kermit Davis. And he remains second in the SEC in scoring.
"(Tuesday) was the best I've seen Terence Davis defend since I've coached him in practice or games," Davis said. "He did an unbelievable job on (Jeremiah) Jefferson. One-for-seven (from three), contested all the shots, stuck right to the game plan about guarding different actions that they ran. We guarded at a good level, which allowed us to win how we did."
CUMBERLAND DELIVERS: Junior guard Jarron Cumberland entered the game as the Cincinnati Bearcats' top scorer at 15.3 points per game, but coach Mick Cronin has wanted more from his best player. Cronin got that Monday night.
Cumberland tied his career high with 27 points as UC crushed Western Michigan 78-52 before 8,998 fans at Fifth Third Arena. Cumberland also had six assists and displayed his best game-opening talents. UC led 43-29 at halftime, behind 19 points from Cumberland.
UC (3-1) was coming off a 74-63 win over Milwaukee last Friday at Fifth Third Arena. Cumberland had 14 points in that one, but Cronin said afterward:
"I've got to do a better job coaching him. That's just the bottom line. He's got to come out with a much more focused mindset at the start of games if he's going to be our best player and our leader."
MASON DELIVERS IN DEBUT: The last time Makai Mason was on the same court as Baylor, he erupted for 31 points in Yale's upset win in the first round of the 2016 NCAA tournament.
Now he's put a new twist on an old adage: If you can beat them, join them.
After missing the first three games with an ankle injury, Mason buried three 3-pointers and gave the Bears the cohesiveness they had lacked as they romped to an 81-54 win over Nicholls State.
The game tipped off at 11 a.m. Friday to give Waco elementary school children a special day at the Ferrell Center. They came by the busloads and maintained their energy throughout the game.
"The Ferrell Center is a loud acoustical arena, and when you hear those kids yelling it definitely excites our guys," said Baylor coach Scott Drew. "They all remember when they were kids, and it wasn't that long ago for a lot of them. This is a chance for them to be role models and inspirations, and they took that seriously."
Headlines
Baylor
Nov. 21 — Bears Prepare for Ole Miss
Nov. 20 — Scott Drew Press Conference
Nov. 16 — Mason's Debut Sparks Win
Nov. 16 — Newcomers Pace Baylor in Win
Nov. 16 — Baylor-Nicholls State Highlights
Nov. 15 — Baylor Faces Nicholls State
Nov. 15 — Morning Game
Cincinnati
Nov. 20 — Bearcats Prepare for Emerald Coast Classic
Nov. 19 — Defense, Cumberland Key Victory
Nov. 19 — Bearcats Win Third in a Row
Nov. 18 — Bearcats Cap Homestand
Nov. 18 — "Mick of the MAC" Visits Cincinnati
Nov. 17 — Takeaways From Milwaukee Win
Nov. 16 — Bearcats Down Milwaukee
Nov. 16 — Broome Breaks Out
Nov. 15 — Cincinnati Faces Milwaukee
George Mason
Nov. 20 — Patriots Surge Past North Carolina Central
Nov. 20 — Four Takeawys From First Win Win
Nov. 19 — George Mason Hosts NCCU
Nov. 17 — Patriots Earn Victory Over Southern
Nov. 16 — George Mason-Southern Pregame Note
Ole Miss
Nov. 22 — Rebels Ready to Face Baylor On The Beach
Nov. 21 — Headed to Destin
Nov. 20 — Balanced Scoring Keys Victory
Nov. 20 — Rebels Improve to 2-1
Nov. 20 — Rebels Overcome Poor Shooting
Nov. 20 — Analyzing Rebels Win
Nov. 19 — Kermit Davis Press Conference Video
Nov. 19 — Post Production Needs Improvement
Nov. 19 — Ole Miss Welcomes Nicholls State
Nov. 16 — Rebels Drop Close Game at Butler
Nov. 15 — Rebels Battle Butler in First Road Test
Nov. 14 — Rebels Land Top 25 Class
Nicholls State
Nov. 22 — Colonels Conclude 7-Game Road Trip in Florida
Nov. 20 — Colonels Tumble at Ole Miss
Nov. 19 — Colonels Continue Road Stint
Nov. 16 — Colonels Fall at Baylor
Nov. 15 — Colonels Ride Momentum Into Baylor
North Carolina Central
Nov. 21 — Eagles Travel to Emerald Coast Classic
Nov. 20 — Duo Earn MEAC Weekly Honors
Nov. 20 — Second Half Rally Dooms Eagles
Nov. 19 — Holiday Trip Starts at George Mason
Nov. 18 — Eagles Rewrite Record Book
Nov. 16 — Game Notes: Warren Wilson
Nov. 15 — Long Range Barrage Not Enough
Western Michigan
Nov. 19 — Broncos Fall at Cincinnati
Nov. 18 — Set for Showdown at Cincinnati
Nov. 17 — Flowers Keys Broncos to Season High in Win
Nov. 16 — Broncos Return Home