NOTE: MEDIA covering the Emerald Coast Classic please make sure to apply for credentials at this link:
https://emeraldcoastbb.wpengine.com/wp-content/uploads/2017/12/Press-Credential-Form.pdf
THE DEADLINE IS MONDAY, NOV. 19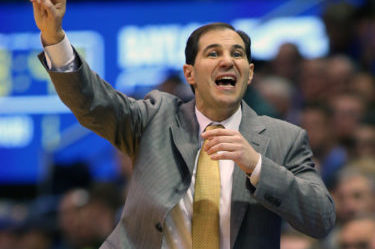 UPCOMING SCHEDULE
(Central time listed)
Thursday, Nov. 15 Games
North Carolina Central at Bowling Green, 6 p.m. ESPN3
Friday, Nov. 16 Games
Nicholls State at Baylor, 11 a.m. Fox Sports SW
Milwaukee at Cincinnati, 6 p.m. ESPN3
Ole Miss at Butler, 7 p.m. FS2
Saturday, Nov. 17 Games
Aquinas at Western Michigan, 1 p.m., ESPN3
Southern at George Mason, 6 p.m., ESPN+
Sunday, Nov. 18 Games
Warren Wilson at North Carolina Central, 1 p.m.
Monday, Nov. 19 Games
Western Michigan at Cincinnati, 6 p.m., ESPN3
Tuesday, Nov. 20 Games
Nicholls State at Ole Miss, 6 p.m., SEC Network
North Carolina Central at George Mason, 6 p.m. ESPN+
Friday, Nov. 23 Games
Nicholls State vs. North Carolina Central, 11 a.m. EC TV
Southern at Western Michigan, 1:30 p.m. EC TV
George Mason vs. Cincinnati, 6 p.m., CBS Sports Network
Ole Miss vs. Baylor, 8:30 p.m., CBS Sports Network
PLAYING WITH CONFIDENCE: A year ago, Javon Greene was suffering the usual growing pains of freshmen in Division I basketball and wondering when his 3-point shot was going to fall in a George Mason uniform.
Now, two games into a season that has started with agonizingly close losses, the 6-foot-2 guard leads the Patriots in scoring (13.5 ppg) and rebounding (8.0 rpg). He had career highs of 18 points (including 10-for-11 shooting at the foul line), 12 rebounds and 34 minutes in Friday's 78-75 overtime loss to American.
"The beautiful thing is that he's doing it all off the bench," says coach Dave Paulsen. "He's not caring that he's not starting. He's just embracing who he is.
"He's just a guy trying to do whatever it takes to help his team win. I think he's just scratching the surface of what he can do."
TORRID SHOOTING BY FRESHMAN: At this rate, Jared Butler might have a 50-point night before the end of November.
After scoring 11 points combined in his first two games, the Baylor freshman doubled that in one night with 22 points and knocked down three 3-pointers to help the Bears (2-1) finally shake loose from Prairie View A&M and beat the visiting Panthers, 91-80, Monday night at the Ferrell Center.
Butler sparked a 13-0 second-half run with a pair of free throws and back-to-back buckets after Prairie View (1-1) got within two points after trailing by 11 at the break, 47-36.
"If we could bottle up the way Tristan played in that five, six-minute stretch in the second half, I told him, I would buy a ticket to watch you play as well as he played in that stretch," Baylor coach Scott Drew said of Clark, who finished with 17 points, seven boards, five blocks and four assists. "We want that every day, because we see flashes of that. The big thing is keeping him out of foul trouble and then being aggressive like that."
"In the first game, I had a lot of jitters and was wondering what it was going to be like," Butler said. "Once I feel comfortable and I feel the environment, I play better and I play more comfortable, and that's what you saw tonight a little bit."
DEFENSIVE INTENSITY SETS TONE: The Kermit Davis era is officially off to a hot start in Oxford. Ole Miss beat Western Michigan 90-64, a dominating performance from the start and the perfect way to usher in a new age of Rebel basketball.
"It was terrific. I was nervous," Davis said, talking about his first experience on the sidelines at Ole Miss. "I had butterflies. It was a fun feeling for me, especially with the start we had."
The Rebels jumped on Western Michigan early, using a high-pressure defense to get the offense going. Ole Miss forced eight turnovers in the first five minutes of play, and were leading 15-4 by the first media timeout.
"Very pleased with how we started the game defensively," Davis said. "I thought we played hard but played within the concept of really trying to guard in a scouting plan. Our energy level has been good at times but we hadn't done a great job of trying to be detailed."
IMPOSING THEIR WILL: The Cincinnati Bearcats were heavy favorites to beat North Carolina Central on Tuesday night, and UC indeed won, 73-51. The way the Bearcats did it was what truly caught the eye.
UC hustled, pressed and throttled North Carolina Central defensively and sophomore guard Keith Williams led the Bearcats with a career-high 15 points in his first career start.
The Bearcats defended all night, diving for loose balls and crashing the boards. Defense turned into offense, as UC scored 19 points off of turnovers.
"Our effort, our energy on defense was excellent," said Cincinnati head coach Mick Cronin. "We still have some mistakes to correct. I knew they would be ready to play tonight, and we had to try to do everything we could to try to rattle them."
Junior forward Trevon Scott added a career-high with 12 points for UC, which shot 58.5 percent from the floor (31-for-53) and expended full energy from start to finish. Senior guard Justin Jenifer and junior guard Jarron Cumberland each scored 10 points for UC, which led by as many as 29 points.
TRANSFER FINDS HOME: George Mason is the only men's basketball team in the country to return every player from last season. Yet in order to contend for the Atlantic 10 championship and earn an NCAA tournament berth for the first time in eight years, the Patriots needed to fill a critical void.
So they have turned to a 6-foot-7, 260-pound, 23-year-old transfer from Virginia who once traveled the globe to win trophies in bicycle motocross.
Meet Jarred Reuter, who gave up two wheels long ago to pursue basketball and, after stops at two prep schools and two years in Charlottesville, will occupy a large space, literally and figuratively, in the Mason lineup.
SCHEDULING WOES: Last Friday North Carolina Central, the defending MEAC conference tournament champions, traveled to South Carolina to take on Clemson, an ACC opponent who made it to the Sweet 16 of the NCAA tournament a year ago and comes into this season ranked in the top 25.
The Eagles got on a bus and jumped on Interstate 40, driving past exit 273B to Chapel Hill, home of UNC. After they got on 85 and head south, N.C. Central passed exits to several Division I colleges along the way before reaching their destination, Clemson, S.C., 280 miles from their campus.
It's not the first time the Eagles played an ACC opponent, and definitely not the first time they've opened the season on the road. Under head coach LeVelle Moton, NCCU had started the season at home only once in the last 10 seasons and will play at home just four times in the first two months of the season.
Headlines
BAYLOR
Nov. 12 — Butler Sparks Win Over Panthers
Nov. 11 — Bears Continue Home Slate
Nov. 11 — Baylor Hosts Prairie View
Nov. 10 — Bears Locate Shooting Stroke in Second Half
Nov. 10 — Bandoo's 25 Points Help Secure First Win
Nov. 10 — Short-Handed Bears Earn First Victory
Nov. 9 — Baylor Hosts Southern
Nov. 9 — Baylor Hopes Second Home Game Is More Successful
CINCINNATI
Nov. 13 — Freshman Keys Home Victory
Nov. 13 — Williams Sparks Bearcats in Home Win
Nov. 13 — Cincinnati Players Post-Game Press Conference
Nov. 12 — Bearcats Look to Bounce Back
Nov. 12 — Bearcats Welcome North Carolina Central
Nov. 8 — Bearcats to Compete in 2019 Paradise Jam
GEORGE MASON
Nov. 13 — Second Half Dooms Patriots in Road Loss
Nov. 13 — Relive the 1990s
Nov. 11 — Patriots Prepare for First Road Test
Nov. 10 — Greene Setting The Tone
Nov. 9 — Greene Paces Patriots
OLE MISS
Nov. 10 — Defense Keys Season Opening Win
Nov. 10 — The 2-4-7 on Season Opening Win
Nov. 10 — Ole Miss-Western Michigan Highlights
Nov. 9 — Kermit Davis Era Begins
NICHOLLS STATE
Nov. 13 — Jefferson, Peppers Fuel Road Win
Nov. 11 — Colonels Fall at Washington State
Nov. 8 — Second Half Rally Falls Short
Nov. 7 — Colonels Begin Road Trip at Louisville
NORTH CAROLINA CENTRAL
Nov. 13 — Eagles Fall at Cincinnati
Nov. 12 — Four Things To Know About North Carolina Central
Nov. 12 — Eagles Invade Buckeye State For 2 Games
Nov. 9 — Eagles Drop Opener at Nationally Ranked Clemson
Nov. 8 — NCCU Faces Stern Test in Season Opener
Nov. 6 — Moton Press Conference on Scheduling Hardships
Nov. 6 — Eagles Look to Build on Success
Oct.16 — Rival Coach Urges NCCU Supporters To Change Mindset
SOUTHERN
Nov. 12 — Second-Half Spurt Dooms Jaguars
WESTERN MICHIGAN
Nov. 14 — Dugan Named MAC Scholar Athlete of Week
Nov. 13 — Broncos Win Overtime Thriller
Nov. 12 — Broncos Head to Oakland
Nov. 12 – Dugan Named MAC West Player Of Week
Nov. 10 — Turnovers Plague Broncos in Loss at Ole Miss
Nov. 9 — Broncos Readies For Road Matchup