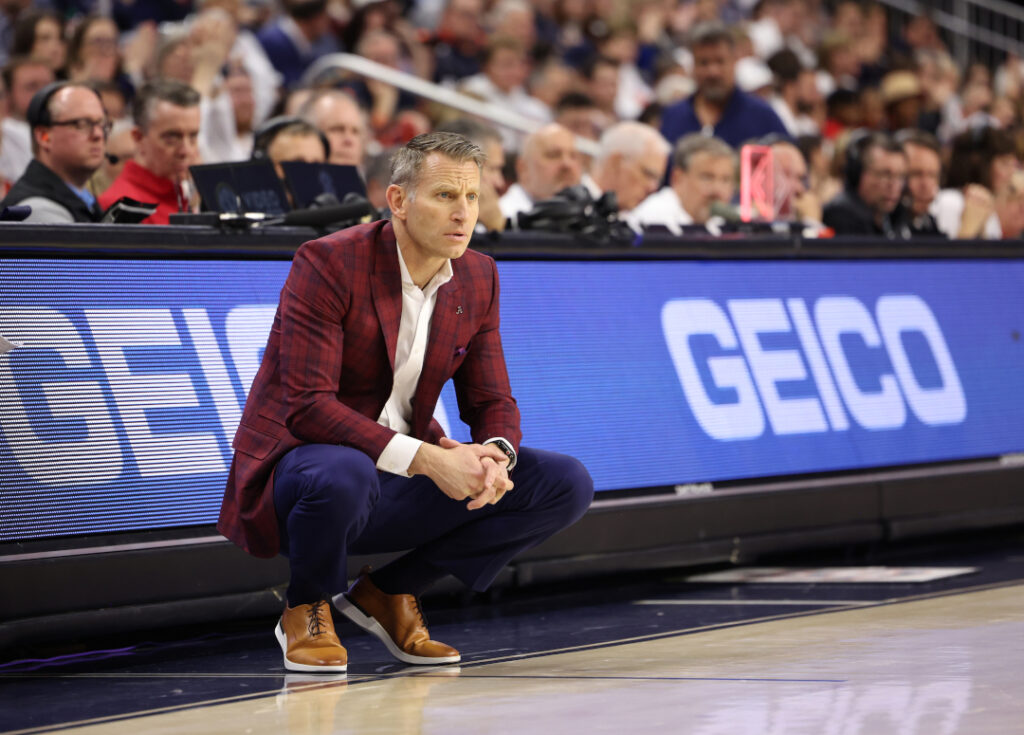 NOTE: MEDIA covering the Emerald Coast Classic please make sure to apply for credentials by Monday, November 13.
UPCOMING SCHEDULE
(All times listed are Central)
Friday, Nov. 10 Games
Texas A&M at Ohio State, 6 p.m., Peacock
Indiana State at Alabama, 7 p.m., SEC Network
Southeastern Louisiana at Auburn, 7 p.m., SEC Network
Montana at Oregon, 8 p.m., PAC-12 Network
Saturday, Nov. 11 Games
Georgia State at Western Michigan, 12 p.m., ESPN Plus
St. Francis at Santa Clara, 6 p.m., ESPN Plus
Tuesday, Nov. 14 Games
Mercer at Morehead State, 6 p.m.
South Alabama at Alabama, 7 p.m., SEC Network
Western Michigan at Northwestern, 7 p.m. Big Ten Network Plus
Santa Clara at Stanford, 8 p.m. PAC-12 Network
Wednesday, Nov. 15 Games
Merrimack at Ohio State, 6 p.m., Big Ten Network
Southeastern Louisiana at BYU, 8 p.m. ESPN Plus
Tennessee State at Portland, 9 p.m., ESPN Plus
Friday, Nov. 17 Games
Mercer at Alabama, 7 p.m., SEC Network Plus
Tennessee State at Oregon, 8 pm, Pac-12 Network
Saturday, Nov. 18 Games
Southeastern Louisiana at Santa Clara, 7 p.m., ESPN Plus
Sunday, Nov. 19 Games
Western Michigan at Ohio State, 3 p.m., Big Ten Network
PREACHING DEFENSE: It doesn't cost anything to play defense. Not playing defense, however, can be very costly. That's part of the message Alabama Basketball Coach Nate Oats delivered Thursday as the Crimson Tide prepares for its second home game in the four-game stretch to open the season in Coleman Coliseum. Bama is hosting Indiana State at 7 p.m. CST Friday.
Both teams are 1-0 with 24th ranked Alabama having defeated Morehead State, 105-73, Monday, while the Sycamores were 90-60 winners over St. Mary of the Woods on Wednesday.
This is the first meeting between the two teams.
Oats said he considers Indiana State Coach Josh Schertz, now in his 18th season (third with the Sycamores), "one of the best coaches in the nation." He pointed out that the Sycamores led the nation in two-point shooting percentage last year because they work the ball for good shots. "If you aren't locked in on defense, miss a switch or make the wrong switch, they'll make you pay," Oats said.
He said Bama played well in its win over Morehead, but that Indiana State is more physical, making the comparison to Tennessee. And, he said, scheduling a team like Indiana State helps prepare Bama for SEC competition.
Against Morehead, Oats said, Alabama "didn't do a good job of putting enough pressure on the ball. We've got to contest the three-point shots better, do better on pick and rolls. "There's no Bediako back there to protect the rim," he said, referencing last year's inside rim protector Charles Bediako. He called Bama's first half rebounding "horrible," but was pleased when the Tide which was behind by 17-14 on boards in the first half finished with a 40-29 advantage.
BUCKEYES WELCOME NO. 15 TEXAS A&M: The Buckeyes will face their first ranked opponent Friday when they take on No. 15 Texas A&M. The game will take place at home in Value City Arena and will mark both teams' second game of the year.
Ohio State (1-0) is coming off of a nail-biter win 79-73 against Oakland. The Buckeyes trailed by one at the end of the first half but were able to make enough runs in the second to hold off a tough Oakland team, who made 14 3-pointers.
Ohio State was led to its first win by guard Roddy Gayle Jr, guard Bruce Thornton and forward Zed Key, who all scored 17 points apiece. Gayle made big shots in the second half, Thornton went 8-for-8 from the free-throw line and Key was efficient coming off of the bench.
Texas A&M (1-0) took care of business in their first game at home against Texas A&M-Commerce with a 78-46 win. The Aggies are led by their backcourt of Preseason SEC Player of the Year Wade Taylor IV and Tyrece Radford, who was All-SEC Second Team last season.
POSITIVES FROM FIRST GAME: Oregon dealt with a few injuries during training camp, which included star center N'Faly Dante. Oregon's injuries, however, didn't prevent the Ducks from looking impressive in its 82-71 win over Georgia in Las Vegas this past Monday. Altman provided his film review of the win on Thursday afternoon.
"Did a lot of good things. I liked our activity. We executed a few things," Altman said. "We took some off-balance shots that need to be corrected and had some bad turnovers late; obviously, the free throws have to improve. But all in all, a lot of good things. The Guys moved the ball at times really well and got out into transition. Defensive transition, we gave up some easy threes.
"For the first game, a lot of positives."
Dante played 27 minutes in the team's opening game of the season, and he didn't look as if he had missed any practice time. Dante finished with 21 rebounds and 16 points to lead the Ducks to victory.
Altman spoke about Dante's health and that of freshman guard Jackson Shelstad, who also didn't play against Georgia due to injury.
"I said we were going to play [Dante] 10 to 15 minutes, but all along, it was going to be 20 to 25, 25 was the max," said Altman. "I went over that a couple of minutes.
"He's a little sore. He took a fall in the first half, kind of an awkward fall, tweaked a hammy a little bit. I think he's okay. But he didn't practice yesterday and moved around a little bit today. So we'll see how he feels tomorrow."
BIG SHOES TO FILL: Santa Clara coach Herb Sendek doesn't know yet whether he has another Jalen Williams or Brandin Podziemski, surprise college stars who were selected in the first round of the past two NBA Drafts.
But he knows what those two have meant to the Broncos.
"It definitely raises the profile of our program," Sendek said. "It fortifies the guys who are with us now, adds to their confidence. At the same time, it improves our position in recruiting.
"It also helps galvanize the university, the campus, the community at large around our program. There's a lot of excitement and momentum as a result."
A year after Williams was selected 12th by the Oklahoma City Thunder, Podziemski arrived as a transfer from Illinois, averaged 19.9 points and 8.8 rebounds and was named co-West Coast Conference Player of the Year. The Warriors selected him at No. 19.
MORE NATIONAL HONORS: Alabama forward Grant Nelson has received another preseason national honor, being selected to the 2023-24 Jersey Mike's Naismith Trophy Preseason Watch List by the Atlanta Tipofff Club as one of the nation's top collegiate players.
The Devils Lake, N.D. native is in first season with the Crimson Tide after transferring from North Dakota State where he averaged 19.9 points, 9.8 rebounds, 2.4 assists and 1.7 blocks.
Earlier, the 6-11 Nelson was named to the Karl Malone Award Watch List, which annually recognizes the top power forward in the country. Nelson was a preseason first-team al-SEC honoree by local and national media and was
selected to the SEC Coaches preseason all-SEC second team.
BATTLE-TESTED BUCKEYE: Jamison Battle spent the past two seasons playing at home in Minnesota. 
He could've chosen to enter the NBA draft but instead made the decision to become a Buckeye.
Battle, a graduate guard who was one of the top scorers in the Big Ten for the past two seasons, transferred to Ohio State with the goal of refining his game and making his first NCAA tournament.
"I thought to myself and felt I wasn't able to make an impact on college basketball the way I wanted to," Battle said. "I don't think I'd be able to sit through March Madness and tell my kids that I haven't played in the tournament."
Despite his best efforts — averaging nearly 15 points and six rebounds per game over his career — Battle had unfortunate luck and was never able to lead his teams to the NCAA tournament.
Battle began his collegiate career at George Washington, where, as a freshman, he set the school's single-season record in 3-pointers made while also leading the A-10 conference in the category with 89.
DUCKS SEEK RETURN TO BIG DANCE: After missing the NCAA Tournament the past two seasons, Oregon has something to prove over the next four months.
The Ducks went 21-15 last season and played into the third round of the National Invitation Tournament. It was their 13th straight season with both a winning record and at least 20 wins.
Impressive streaks, for sure, but all-conference big man N'Faly Dante said the team aspires for much more.
"Go win it," the fifth-year senior said. "That's my goal. That's the only reason I came back."
WESTERN MICHIGAN SEEKS CONSISTENCY: Longtime Michigan State assistant Dwayne Stephens is heading into his second season at the helm of Western Michigan men's basketball. The Broncos finished 8-23 last year and 4-14 in conference play. Above that, the Broncos have not been to the NCAA tournament since a 77-53 loss to Syracuse in the first round of the 2014 tournament. WMU bids farewell to its top three leading scorers from last year, including Lamar Norman Jr who poured in 17.3 points per game.
One of the main problems for the Broncos last year was discipline. WMU had trouble at times taking care of the ball which led to opposing teams taking them to the bucket in the transition at an effective rate. Aside from that, the Broncos were inconsistent on a nightly basis.
It was a welcomed challenge for Stephens in year one, even if it wasn't a successful season in terms of wins and losses.
"You have to fight for your culture everyday, you have to have some patience. To be able to push and demand and also love on your team at the same time," Stephens said.
The Broncos return six players who saw minutes last season. Those include sophomore Ja'Vaughn Hannah, sophomore Jefferson De La Cruz Monegro, sophomore Seth Hubbard, junior Owen Lobsinger, sophomore Jack Stefanski, and senior Titus Wright who had some impressive stretches last season.
WMU welcomes the return of junior guard B. Artis White who redshirted last season due to injury. White should be the floor general and a leader this season.
FRESHMAN MAKES PRESENCE KNOWN: This was the kind of moment Scotty Middleton came to Ohio State for.
Having fought off a spirited upset challenge from visiting Oakland on Monday night in Value City Arena, the Buckeyes were clinging to a 76-73 lead in the final minute after Blake Lampman had just buried the 14th 3-pointer of the night for the Golden Grizzlies. Oakland coach Greg Kampe called timeout with 21.9 seconds left and set up his press to try and force the Buckeyes into a turnover.
Ohio State's Chris Holtmann went with a lineup of fifth-year forward Jamison Battle, fourth-year center Zed Key, second-year guards Roddy Gayle Jr. and Bruce Thornton and first-year wing Scotty Middleton. And when Ohio State got the ball inbounds and started to advance up the court, Lampman committed the time-stopping foul with 15.1 seconds remaining to send the Buckeyes to the line.
It was Middleton, the freshman, who had the chance to essentially end the upset bid. He'd already scored 10 points, but with the game on the line these would be his first career free throws. Make either of them and Ohio State's lead would be back to two possessions.
He missed the first. Then he hit the second and would add two more with four seconds left to seal the 79-73 win and his first official game.
"When you're walking to the line, I'm just thinking about my team," Middleton told The Dispatch at a name, image and likeness event hosted by THE Foundation on Tuesday night. "Ultimately, it's a three-point game and you can put the game away so I just walked up to the line with complete confidence, my teammates believing in me to go shoot those free throws. After I missed the first one, my teammates just told me, gimme the second one.
"That belief, the family behind it, makes it easy to go in there and make the free throws."
BALANCED ATTACK FUELS LIONS: The Southeastern Lions men's basketball team beat the Delta State Statesmen 90-71 in their season opener on Monday night at the Pride Roofing University Center.
The Lions saw six players score in double figures: junior guard Roger McFarlane (14), senior guard Roscoe Eastmond (13), senior forward Nick Caldwell (13), graduate student guard Avery Wilson (11), sophomore forward Brock Rowbury (10) and graduate student guard Alec Woodard (10).
OREGON GUARD STILL SIDELINED: Oregon freshman guard Jackson Shelstad will miss at least a second game due to a knee injury and center N'Faly Dante is day-to-day as he attempts to play through knee pain and a minor hamstring injury.
Shelstad missed UO's season-opening win over Georgia in Las Vegas with knee soreness and will not play in Friday's (6 p.m., Pac-12 Network) home opener against Montana, Dana Altman said.
"He's still out," Altman said. "I'm not sure exactly what the timetable is on that, but he definitely will not play (Friday) night. … The doctors and the trainers will be very conservative and let me know when he's ready to go. It'll be at least another week."
DEEP ROTATION: The Alabama Crimson Tide rang in the new basketball season with a 105-73 win over Morehead State on Monday night.
Last season, the Crimson Tide played a deep rotation of nine or 10 on its way to an SEC championship double and the No. 1 overall seed. In Monday's season-opener, Alabama (1-0) played 11 guys for double-digit minutes, showing it has depth yet again.
North Dakota State transfer Grant Nelson led the team with 25 minutes, finishing the game with 24 points and seven rebounds. Guards Mark Sears and Aaron Estrada were next up with 24 and 23 minutes, respectively.
Obviously, a 32-point victory over a mid-major opponent in November doesn't tell you too much about what the rotation will look like down the line, but the Crimson Tide will have decisions to make at some point.
And that doesn't include guard Kris Parker, who missed Monday night's game with an injury.
"I don't know how it's gonna get shrunk … the guys that end up playing fewer minutes moving forward are gonna be really good players, head coach Nate Oats said. "If we have an injury, I think we'll be able to withstand injuries better. Two years ago, we weren't nearly as deep. […] Injuries are a part of the game. [I think] if we have one, some guys will be able to step up."
Similar to what he said early last season, Oats explained that minutes will be allotted based on performance and effort on the defensive end.
TIGERS MOVE TO 2-0: Ej Bellinger secured a double-double with 20 points and 11 rebounds to help the Tennessee State men's basketball team take down the Kentucky State Thorobreds 83-58 at home Thursday night.
The Tigers (2-0) had three players score in double figures, led by Bellinger, who secured a double-double with 20 points and 11 rebounds. Jason Jitoboh added 18 points, seven rebounds, and three blocks and Jaylen Jones chipped in as well with 13 points and two steals from the bench.
MERCER EARNS FIRST WIN: Jalyn McCreary's jumper just 38 seconds into the contest gave the Mercer men's basketball team a lead it would never relinquish as the Bears picked up their first win of the season with a 66-61 triumph at Chicago State on Thursday.
The Bears (2-0) shot 47.8 percent from the field and 30 percent from behind the arc in the first half. McCreary and Robbie Carmody led the scoring in the first half with nine points apiece. Mercer was in the lead from their first bucket through the halftime buzzer.
HEADLINES
ALABAMA
Nov. 9: Alabama Looks To Extend Homecourt Streak
Nov. 9: Tide Land 2 Recruits On Signing Day
Nov. 9: Oats Comments On Recruits
Nov. 7: Capitalizing On Recruit Commitment
Nov. 7: Nelson Shines
Nov. 6: Takeaways From Season Opener
Nov. 6: Oats Post-Game Comments
Nov. 6: Nelson Keys Season Opening Win
Nov. 6: Nelson Scores 24 In Debut
OHIO STATE
Nov. 9: Texas A&M Preview
Nov. 9: No. 15 Texas A&M Invades Ohio State
Nov. 9: Chris Holtmann Press Conference
Nov. 9: Battle, Bonner Preview Texas A&M Game
Nov. 8: Thornton Impresses Oakland Coach
Nov. 8: Getting To Know Jamison Battle
Nov. 8: Buckeyes Land 2 Recruits
Nov. 6: Buckeyes Hold Off Upset Minded Oakland
Nov. 6: Second-Half Propels Win
Nov. 6: Veterans Lead To Season Opening Win
Nov. 5: Buckeyes Open 125th Season
Nov. 3: Jamison Battle Interview
Nov. 1: Okra Ready To Make Mark
Nov. 1: Key, Thornton Preview Season
Nov. 1: Bonner Ready To Contribute
OREGON
Nov. 9: Ducks Face Montana In Home Opener
Nov. 9: Forwards Join Recruiting Class
Nov. 6: Post Play Fuels Season Opening Win
Nov. 6: Size Advantage Keys Wins
Nov. 6: Post-Game Comments Following Win
Nov. 3: Basketball Season Tips Off
SANTA CLARA
Nov. 8: Broncos Hold Off Utah Tech
Nov. 8: Louisiana Forward Joins Program
Nov. 6: Broncos Host Utah Tech In Opener
Nov. 3: What You Need To Know
MERCER
Nov. 9: Recruiting News
Nov. 8: Bears Travel To Chicago State
Nov. 6: Bears Fall In Season Opener
SOUTHEASTERN LOUISIANA
Nov. 9: Lions Face National Ranked Auburn
Nov. 6: Balanced Attack Fuels Win
TENNESSEE STATE
Nov. 8: Tigers Host Kentucky State
Nov. 8: Local Product Signs With Tigers
Nov. 6: Defense Keys Tigers In Opener
WESTERN MICHIGAN
Nov. 8: Combo Guard Signs With Broncos
Nov. 8: Former Mr. Basketball Joins Program
Nov. 6: Broncos Drop Opener In Overtime