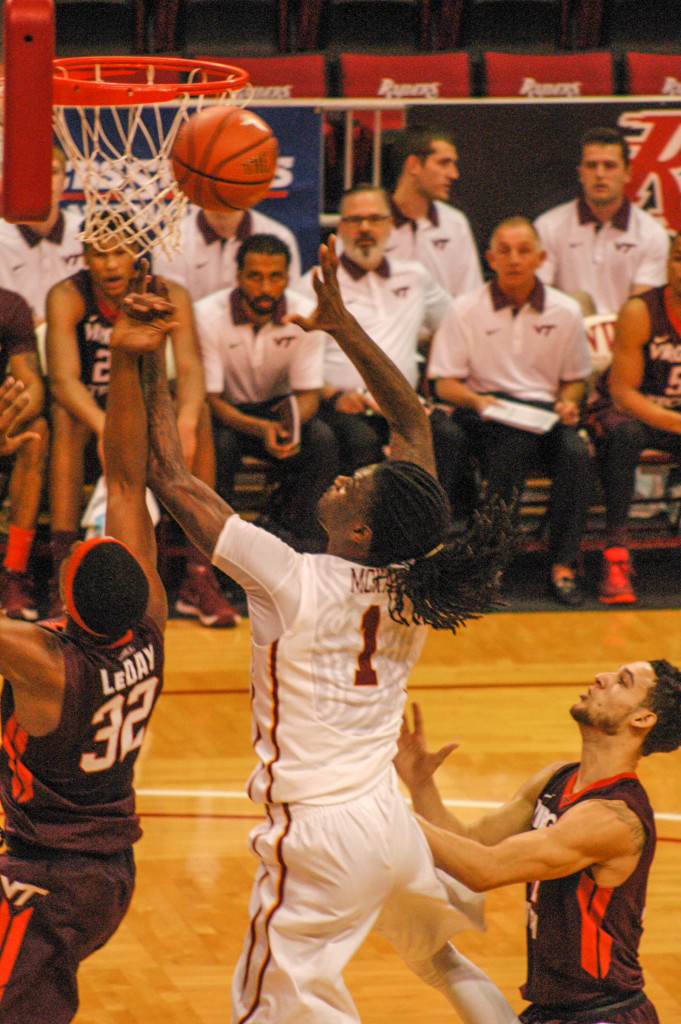 NICEVILLE, FLA. – Senior forward Jameel McKay collected 23 points, eight rebounds and three blocked shots as No. 4 ranked Iowa State roared to a 99-77 victory past Virginia Tech in the third round of the Emerald Coast Classic Friday night at Raider Arena on the Northwest Florida State campus.
McKay scored 15 points in the first half as the Cyclones built a 52-30 lead on a sizzling 69 percent shooting in the first half, making 20 of 29 shots.
Six players scored in double figures for the Cyclones who improved to 4-0. Iowa State advanced to the championship at 6 p.m. Saturday and will play the winner of the UAB-Illinois game which was the last third round game played Friday night
Iowa State senior forward Abdel Nader enjoyed his first double-double of the season with 16 points and a game high 11 rebounds. Junior guard Monte Morris and senior forward Georges Niang had 14 apiece. Guard Naz Mitrou-Long added 12 points, while reserve Hallice Cooke tallied 11. Morris dished out seven assists with Niang totaling six.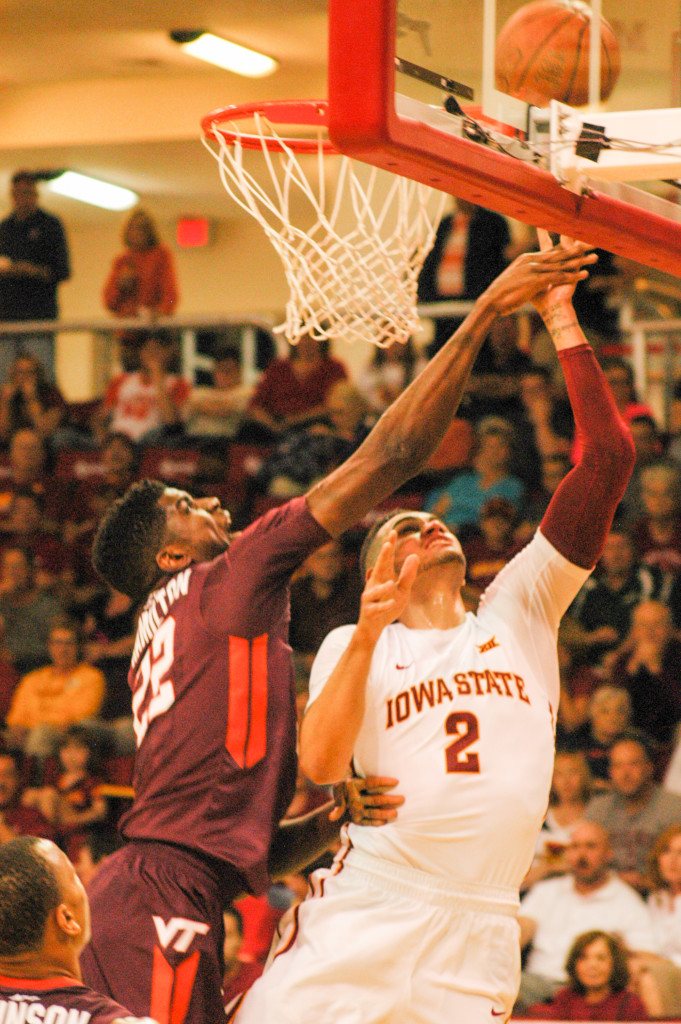 Zach Leday led Virginia Tech with 19 points and eight rebounds, while Justin Robinson and Justin Bibbs each scored 11 points.
The Hokies, who slipped to 3-2, opened the game making just one of their first 10 shots from the floor. After shooting just 37.8 percent in the first half, Virginia Tech got untracked in the second period hitting 56.7 percent but Iowa State's lead was too huge to overcome.
Iowa State set a tournament record with nine blocked shots with Niang also totaling three rejections. The Cyclones also tied a tournament mark with 13 treys as Cooke led the way with an Iowa State career-high three treys.
CREDIT PHOTOS TO JEREL HARRIS
1. Iowa State's Jameel McKay (1) shoots over Virginia Tech defenders Zach LeDay (32), left, and Devin Wilson (11), right, during the second half of play at the Emerald Coast Classic in Niceville, Florida on Friday, November 27, 2015. The Cyclones beat Virginia Tech 99-77. (Photo by Jerel Harris)
2. Abdel Nader (2) of Iowa State, right, gets past Virginia Tech's Johnny Hamilton (22) and scores during the first half of play at the Emerald Coast Classic in Niceville, Florida on Friday, November, 27, 2015. The Cyclones beat Virginia Tech 99-77 during the first round of tournament play. (Photo by Jerel Harris)