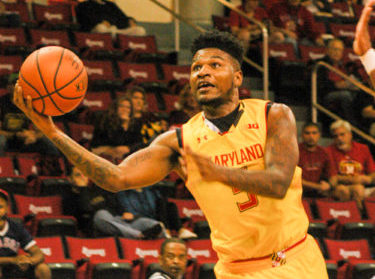 NICEVILLE, FLA. — Maryland jumped out to a 27-3 lead and never looked back en route to an 80-65 win over New Mexico in the third-place game of Emerald Coast Classic Saturday.
Sophomore guard Anthony Cowan Jr. led a balanced Maryland attack with with 21 points. Sophomore forward Justin Jackson finished with 16 points and seven rebounds.
The Terps came out on fire making 10 of their first 13 shots, including six of seven three-point attempts. Kevin Huerter and Dion Wiley each made two three-point shots beyond the arc.
Maryland coach Mark Turgeon was proud of how his team bounced back on a quick 15-hour turnaround after rebounding from a tough loss to St. Bonaventure, 63-61, in the semifinal round late Friday night.
"I'm really proud of how my team responded," said Turgeon, whose team improved to 6-1. "This was a good bounce back win for us. It was a short turn around but we came out with a lot of energy. We defended really well and we hit some shots.
"I thought Anthony Cowan was great for us tonight. He really guarded, hit some key three-pointers, and he handled their pressure extremely well."
Maryland connected on 15 of 27 field goal attempts (55.6%) and nailed seven of 12 three-point attempts to build a 46-28 halftime lead. The 46 points in the first half marked Maryland's highest total this season.
The Terps finished the game hitting 52.2 percent. Meanwhile, New Mexico, which started the game making just one of its first 12 shots, shot 33.3 percent (21-63).
"The start of game ended up being the game," lamented New Mexico coach Paul Weir. "They (Maryland) were rearing to go and we were playing with an average pace.
"Their defensive energy to start the game was tremendous and our lack of offensive energy was the opposite.
"We were good from the start," Cowan Jr. said. "We were able to make some shots early and that got us going. Everybody got involved and it felt good after last night to respond with a win."
Maryland freshman forward Bruno Fernando came close to a double-double with nine points and nine rebounds, while collecting three blocked shots. It marked his fourth straight game with three blocked shots.
Junior college transfer guards Chris McNeal and Anthony Mathis had 19 and 12 points, respectively, for New Mexico.
In addition, to a stifling defense against New Mexico, Maryland also controlled the boards, outrebounding the Lobos, 38-28.
"Their (Maryland) length and size took away a lot of good looks around the rim, "Weir added. "Give them credit, they have size and contest shots at a high level."
Despite suffering two losses over the weekend, Weir is still excited about the potential of is team
"I thought this tournament was terrific," added Weir, whose team fell to 2-4. "We didn't like the outcomes but in the long haul to play teams like this is great for our growth and development. It will allow us to continue to get better…We do fell we are improving."