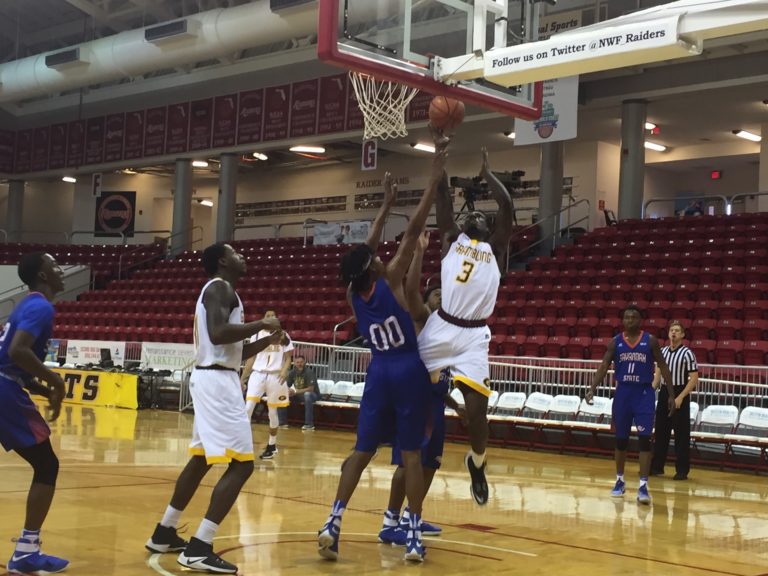 NICEVILLE, FLA. — Grambling reeled off 16 straight points midway through the second half to rally for a 110-104 victory past Savannah State in the seventh place game of the Destin Realty Emerald Coast Classic Saturday at the Arena on the Northwest Florida State campus.
Senior guard Ervin Mitchell scored a game-high 36 points, including 21 in the second half, for Grambling which improved to 2-4.
Grambling shot 61.1 percent from the floor (22-36) to fuel the comeback.
Sophomore guard Dexter McClanahan paced Savannah State (2-5) with 27 points, including 22 in the first half.
Savannah State, which entered the tournament, leading the NCAA in three-point baskets made 17 treys, including 12 in the first half to race to a 55-45 halftime lead. But the Tigers were limited to five treys in the second half
Savannah State used back-to-back three-point baskets by McClanahan sparking a 7-0 run to give the Tigers a 30-15 cushion with 10:22 left in the first half.
Trailing 69-59, Mitchell hit a three-point basket with 15:39 left in the game that ignited the 16-0 run and also added a trey to close out the rally giving Grambling a 75-69 lead with 13:40 left.
Savannah State tied the game at 85-85 following a three-point play by Casey Wells with 8:30 left.
But Grambling answered with four straight points from Mitch to go ahead 89-85 and never relinquished the lead. A layup by Mitchell gave Savannah State a 103-93 lead.
Senior guard Remond Brown scored 21 points for Grambling, while junior forward Avery Ugba added 18 points and 16 rebounds.
Troyce Manassa contributed 21 points for Savannah State.