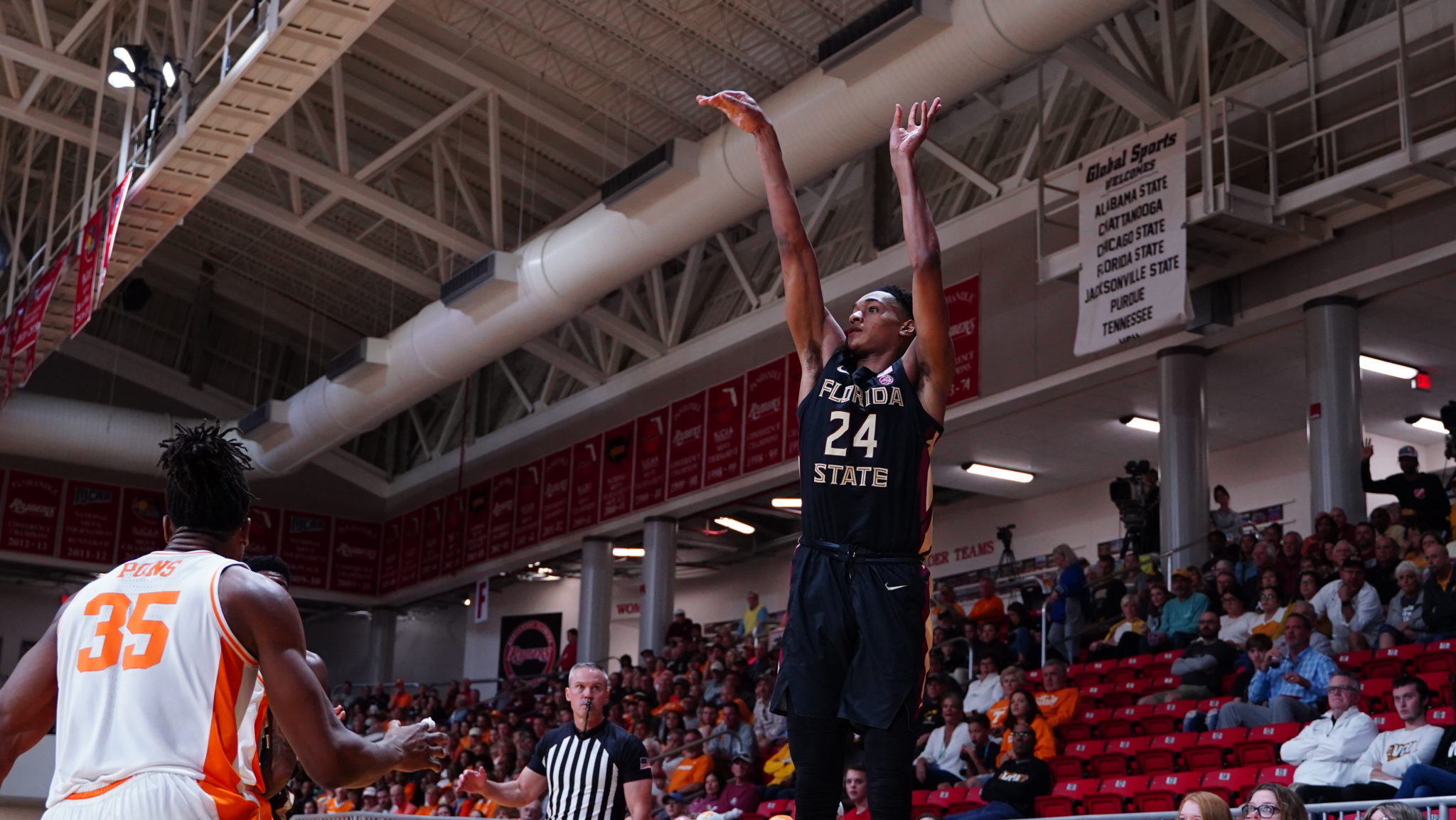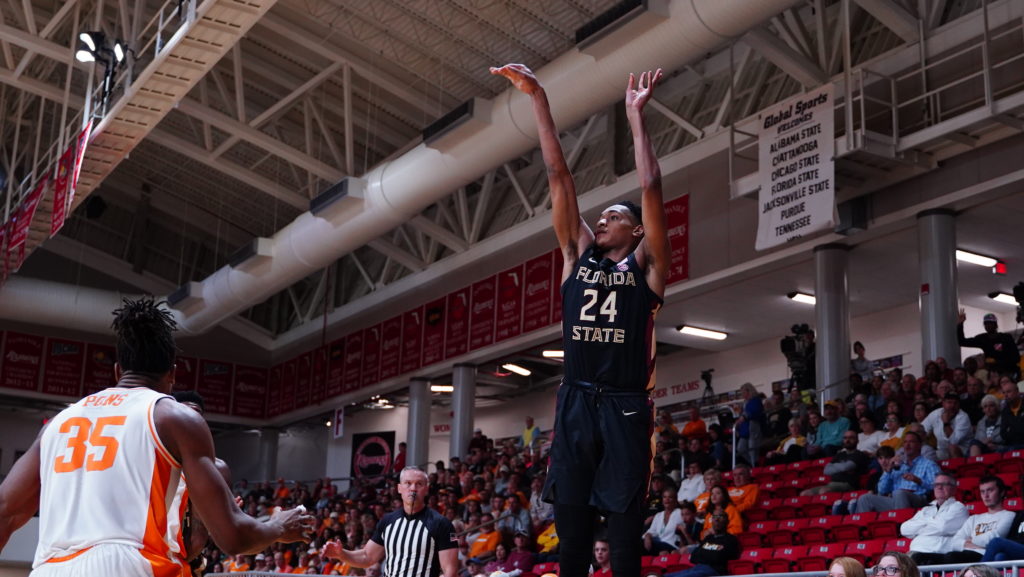 NICEVILLE, FLA. — Sophomore guard Devin Vassell, who led Florida State to the championship of the Emerald Coast Classic, has been named the outstanding player of the tournament.
Vassell tallied 13 points in Florida State's 63-60 overtime victory past Purdue, scoring the final two points in overtime after getting fouled when he grabbed a missed Purdue shot. He also collected six rebounds, two blocked shots and two steals.
Earlier, Vassell scored 13 points and made a key steal and pair of free throws in the final minute as Florida State handed No. 17 Tennessee its first loss of the season — 60-57 in the semifinal round Friday.
Florida State senior guard Trent Forrest joined Vassell on the 10-man all-tournament team.
In the semifinal round victory against No. 17 Tennessee Friday, Forrest made one of two free-throw attempts with 31 seconds left to put Florida State ahead at 58-54 before Vassell stole the ball with 16 seconds left. He then made two free throws to ice the game.
Forrest scored a game-high 17 points, while collecting four rebounds and three steals in the championship game against Purdue.
Junior forward Matt Haarms and senior guard Jahaad Proctor from Purdue also were selected to the all-tournament team. The duo combined to score their team's last nine points in regulation of the championship game against Florida State, helping send the game into overtime.
Proctor averaged 12.0 points, while Haarms averaged 11.0 points and 6.0 rebounds in the two games played in Florida. Haarms had 16 points and eight rebounds in the Boilermakers' championship game against Florida State. Proctor tallied 12 points, three rebounds, two assists and a blocked shot in the championship game.
Tennessee junior guard Lamonte Turner and junior forward Marcus Santos-Silva from VCU also were recognized on the all-tournament team.
Turner collected 17 points, sevens rebounds and made a game winning three-point basket as time expired in Tennessee's 72-69 victory past VCU in the game for third-place Saturday. Turner scored 20 points in a 60-57 semifinal setback to Florida State Friday.
Santos-Silva averaged a tournament-high 20.5 points in two games played in Florida. He had a game-high 19 points and two steals for VCU in a 59-56 semifinal round loss to Purdue and posted his third double-double of the season with a game-high 22 points and 11 rebounds in the third-place game against Tennessee.
Other players honored were senior swingman Tobi Ewuosho of Alabama State; junior guard David Jean-Baptiste from Chattanooga; junior guard Andrew Lewis, Chicago State; and junior guard Derek St. Hilaire of Jacksonville State.
2019 Emerald Coast All-Tournament Team
Dean Vassell, Soph., G, Florida State – Most Outstanding Player
Tobi Ewuosho, Sr., G/F, Alabama State
David Jean-Baptiste, Jr., G, Chattanooga
Andrew Lewis, Jr., G, Chicago State
Derek St. Hilaire, Jr., G, Jacksonville State
Lamonte` Turner , Sr., G, Tennessee
Marcus Santos-Silva, Jr., F, VCU
Jahaad Proctor, Sr., G, Purdue
Matt Haarms, Jr., F, Purdue
Devin Vassell, Soph., G, Florida State
Trent Forrest, Sr., G, Florida State