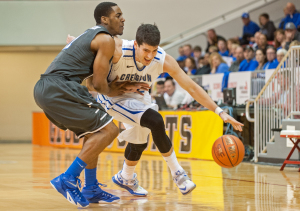 NICEVILLE, FLA. – No. 23 ranked Creighton  fired a blistering 60.9 percent from the field in the first half to race to a 21-point halftime lead and never looked back in trimming Middle Tennessee State  in the final round of the Emerald Coast Classic tournament Saturday night.
With eight different players contributing Creighton went on a 21-6 scoring spree during an eight-minute span to turn a 4-3 deficit into a 24-10 cushion following a layup by Will Artino with 7:53 left in the first half.
But it was a period of contrasting halves as Creighton shot just 21.4 percent from the floor in the second half, making just three of 14 shots.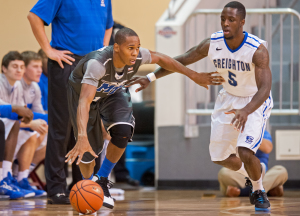 Creighton enjoyed its biggest lead of the game at 38-15 with 19:45 remaining.  But then the Bluejays would make just one basket the remainder of the game when reserve center Zach Hanson broke a 16:45 dry spell with a dunk with 3:00 left.
Middle Tennessee State couldn't take advantage of Creighton's drought only pulling within eight points at 43-35 with 5:48 left on a basket by Jacquez Rozier.
Sophomore guard Isaiah Zierden led a balanced Bluejay attack with 10 points, while senior center Will Artino tallied nine points. Freshman forward Toby Hegner and senior guard Austin Chatman each scored eight points.
Jaqawan Raymond paced the Blue Raiders with nine points, while Rozier netted six points.
Middle Tennessee State hit 36.6 percent from the floor, making 15 of 41 shots.
Creighton moved to 6-1 entering a two-game road swing which starts Wednesday at Tulsa.
Middle Tennessee State fell to 3-3.