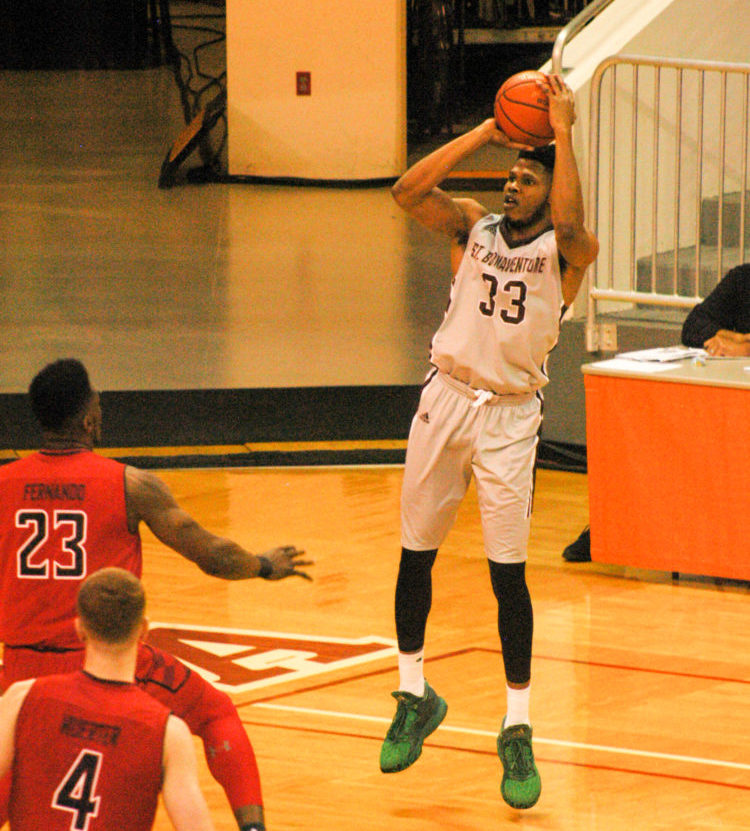 NICEVILLE, FLA. – Courtney Stockard's layup with 3.2 seconds left lifted St. Bonaventure past Maryland, 63-61,Friday night and a trip to the championship of the Emerald Coast Classic tournament.
The Bonnies, who moved to 3-1, will play undefeated TCU (5-0) in the championship which tips off at 6 p.m. at The Arena on the Northwest Florida State campus.
"It was a great team effort," said St. Bonaventure coach Mark Schmidt. "We fought back and made big plays. I give our guys a lot of credit. We showed tenacity."
Making the comeback even more remarkable was that Bonnies who were playing without injured star Jaylen Adams and Matt Mobley who fouled out with 25.8 seconds left.
Mobley led the Bonnies with game-high 16 points, making all 10 free throw attempts.
After Maryland sophomore guard Anthony Cowan Jr. tied the game at 61-61 on two free throws with 25 seconds left, the Bonnies set a play with Stockard at point guard. The 6-6 Stockard held the ball before going around a Josh Ayeni screen and driving the right side of the lane, scooping a shot over two Terps defenders.
"I wanted to attack the basket and when I got the screen I knew I could attack," said Stockard.
"He made a really good play, "said Maryland coach Mark Turgeon. "He got to the basket. It's something that we'll learn from."
Cowan Jr., tried to draw contact after taking the inbounds pass with 3.2 seconds left in the game but wound up losing the ball as time expired.
Stockard, who had missed the last two games with a groin injury, scored a career-high 14 points. The heroics were a redemption for the junior who missed both of the last two seasons due to foot injuries.
The Terps built a 52-44 lead with 8:19 remaining behind three-pointers from Cowan Jr. and sophomore Kevin Huerter, sandwiched between a three-point play by graduate transfer center Sean Obi.
Maryland, however, struggled offensively, tying their season-high with 20 turnovers and shot just 5-23 (21.7 percent) from three-point range.
"St. Bonaventure played hard from the beginning," said Turgeon. "When you have 20 turnovers and shoot 5-23 from three-point range and don't have many second chance points, it catches up with you. In the end our defense let us down. We just didn't play well."
Maryland, which suffered its first loss of the season (5-1), will meet New Mexico in the third place scheduled for 3 p.m.
Cowan Jr. was the lone double-figure scorer for Maryland with 13 points, while collecting three assists and two steals.
"Anthony Cowan was terrific. He got to the basket and he played his tail off defensively, said Turgeon. "He was playing so hard and so well I couldn't take him out. But overall we just didn't play well. We'll have a quick turnaround, we'll be back in less than 15 hours. We'll have to prepare and be ready to play."
Maryland (5-1) committed 20 turnovers and shot 5-for-23 from 3-point range. St. Bonaventure was 0-for-7.
St.Bonaventure shot a season-low 38.2 percent from floor, but did score 20 points off Maryland's turnovers.
Leading 31-30 at halftime, Maryland scored the first five points of the second half and took a 38-32 lead. But St. Bonaventure came right back with eight straight points to go up 40-38.
After missing 14 of their first 15 long-range attempts, the Terps retook the lead on a 3-pointer by Cowan. Their advantage grew to 47-40 on a three-point by reserve center Sean Obi and a 3-pointer by sophomore wing Kevin Huerter.