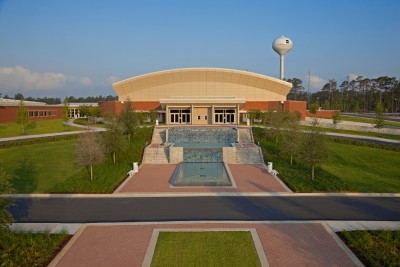 NICEVILLE, FLA. — Game matchups for the seventh annual Emerald Coast Classic were announced by Global Sports Tuesday.
Eight teams will compete Nov. 26-27 in the tournament which will be held at Raider Arena on the campus of Northwest Florida State College.
Penn State will face LSU in a semifinal round game at 6 p.m. central time on Friday, Nov. 26, while Wake Forest will play Oregon State at 8:30 p.m. The third-place game will be played at 3 p.m. on Saturday Nov. 27 with the championship game scheduled for a 6 p.m. tip off on that Saturday.
On campus first-round games will be played Nov. 18 with Penn State hosting St. Francis Brooklyn, while Samford visits Oregon State and McNeese State travels to LSU. Wake Forest will host North Carolina A&T Nov. 20.
Other games at Northwest Florida State College on Friday Nov. 26 have McNeese State playing St. Francis Brooklyn at 11 a.m., while North Carolina A&T meets Samford at 1:30 p.m. These teams will play their second game Nov. 27 with tip offs at 10 a.m. and 12:30 p.m.
For more tournament information visit www.emeraldcoastclassic.com
Global Sports has produced 46 multi-team college basketball tournaments since 2007 with four more slated for the 2021-22 season