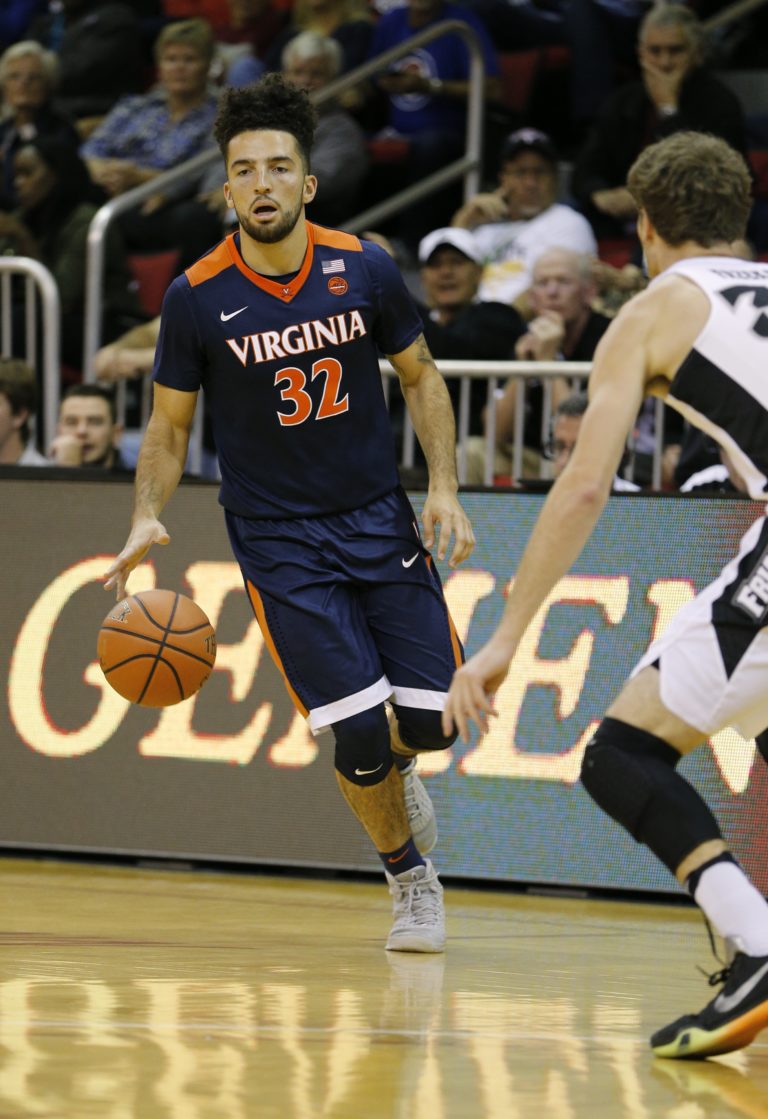 NICEVILLE, FLA. — Senior point guard London Perrantes, who led No. 7 ranked Virginia to the championship of the Destin Realty Emerald Coast Classic, has been named the outstanding player of the tournament.
Perrantes played a steady floor game for the Cavaliers averaging 11.5 points, 5.5 rebounds, 4.5 assists and 1.5 steals in two games played at Raiders Arena.
He collected 11 points, a game-high eight rebounds, while dishing out five assists to lead Virginia to a 63-52 victory past Providence in the championship.
Virginia junior forward Isaiah Wilkins joined Perrantes on the 10-man all-tournament team. Wilkins shot a sizzling 88.9 percent (8-9) from the floor in two games, while averaging 10 points. Wilkins had nine points, making all four shots, in the title game while grabbing a game-high three blocked shots.
Junior forwards Rodney Bullock and Emmitt Holt from Providence also were selected to the all-tournament team. Bullock averaged 17 points, while Holt averaged 13.5 points and 8.0 rebounds. Holt had 16 points and 10 rebounds in the Friars' 60-51 semifinal round victory past Memphis.
Sophomore forward Dedric Lawson from Memphis and Iowa's Peter Jok also were recognized on the all-tournament team.
Lawson averaged a tournament-high 27 points and 10 rebounds in two games played in Florida. The preseason American Athletic Conference Player of the Year had 35 points and 11 rebounds in the Tigers' 100-92 triumph past Iowa in the third place game.
Jok, a senior guard, set a tournament record with 42 points against Memphis, including eight treys, while making all 12 free throw attempts.
Other players honored were sophomore guard Antonio Green, University of Texas Rio Grande Valley; sophomore guard Glenn Sanabria, St. Francis Brooklyn; senior guard Ervin Mitchell, Grambling; and senior guard Troyce Manassa, Savannah State.
Green established a tournament record by hitting 10 three-point baskets in UTRGV's 101-93 overtime victory against Grambling.
2016 Destin Realty Emerald Coast All-Tournament Team
London Perrantes, Sr., G, Virginia – Most Outstanding Player.
Isaiah Wilkins, Jr., F, Virginia
Rodney Bullock, Jr., F, Providence
Emmitt Holt, Jr., F, Providence
Dedric Lawson, So., F, Memphis
Peter Jok, Sr., G, Iowa
Antonio Green, So., G, Texas RIo Grande Valley
Glenn Sanabria, So., G, St. Francis Brooklyn
Ervin Mitchell, Sr., G, Grambling
Troyce Manassa, Sr., G, Savannah State