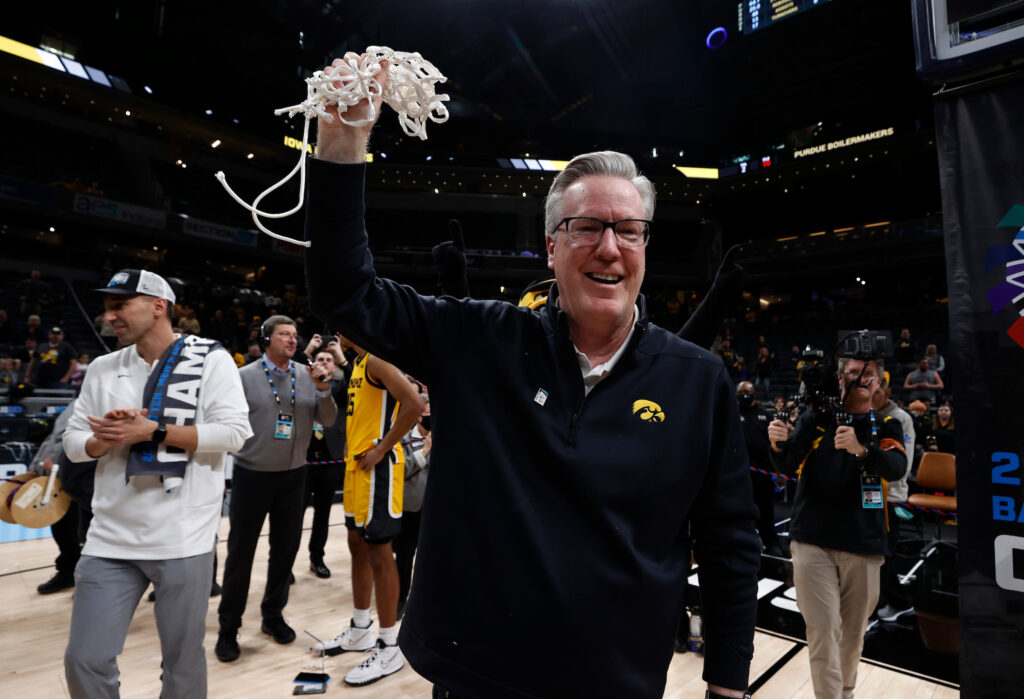 NOTE: MEDIA covering the Emerald Coast Classic please make sure to apply for credentials by Wednesday, November 16.
UPCOMING SCHEDULE
(All times listed are central)
Wednesday, Nov. 16 Games
Iowa at Seton Hall, 6:30 p.m. FS1
Southern at Saint Mary's (Calif.) 7:30 p.m., WCC Network
Ball State at Omaha, 7:37 p.m.
Thursday, Nov. 17 Games
Loyola Maryland at Washington (Md.), 6 p.m., ESPN Plus
ULM at TCU, 7 p.m., ESPN Plus
Friday, Nov. 18 Games
Bellarmine at Clemson, 6 p.m., ACC Network X
Southern at Cal, 8 p.m., Pac-12 Network
Monday, Nov. 21 Games
Loyola Maryland at Clemson, 6 p.m. ACC Network X
Omaha at Iowa, 7 p.m. Big Ten Network
ULM at Louisiana Tech, TBA, CUSA TV
Texas State at Cal, 9 p.m. , Pac-12 Network
Friday, Nov. 25 Games
Emerald Coast Classic-Niceville, Fla.
Loyola Maryland vs. Southern, 11 a.m., Flo Hoops
Omaha vs. ULM, 1:30 p.m., Flo Hoops
Clemson vs. Iowa, 6 p.m., CBS Sports Network
Cal vs. TCU, 8:30 p.m., CBS Sports Network
Satuday, Nov. 26 Games
Emerald Coast Classic-Niceville, Fla.
Seventh-Place Game 10 a.m., Flo Hoops
Fifth-Place Game 12:30 p.m., Flo Hoops
Third-Place Game 3 p.m., Flo Hoops
Championship 6 p.m., CBS Sports Network
HAPPY BIRTHDAY COACH: Brad Brownell's basketball team made sure he had a happy 54th birthday with an 81-70 victory over USC Upstate Tuesday night in Littlejohn Coliseum.
Brownell has coached six games on his birthday throughout his career and is now 6-1 all-time, including 4-0 at Clemson, 1-1 at Wright State and 1-0 at UNC Wilmington.
Clemson improves to 2-1 overall while Upstate falls to 1-2. The game marks just the second all-time meeting between Clemson and USC Upstate – Clemson won handily 76-56 during the 2015-16 season and were led by Avry Holmes who finished 20, while Jaron Blossomgame and Ty Hudson added 11 each. Jordan Roper, now the Assistant Director of IPTAY Major Gifts – Block C Club, totaled nine points and six rebounds.
Four Clemson players scored in double figures, led by Chase Hunter's 20 points on 7-of-12 shooting, including 4-of-6 from 3-point range. Alex Hemenway scored 18 on 7-of-9 shooting, including 4-of-6 from beyond the arc, while Brevin Galloway added 15 on 7-of-8 shooting from the free throw line. PJ Hall added 13 points, while Hunter Tyson scored eight points but grabbed a game-high 12 rebounds.
Upstate was led by Jordan Gainey's 24 points, 16 from Trae Broadnax, and 15 from Justin Bailey. Clemson out-rebounded Upstate 29-25.
The Tigers led the entire way, including opening up a 13-point lead in the first half. PJ Hall's dunk and then a 3-pointer by Alex Hemenway gave the Tigers a 24-11 lead at the 8:32 mark of the half. The Tigers kept a working margin of 8-12 points the rest of the half, led by Brevin Galloway, and led 42-31 at intermission.
MILES, MURRAY ON WOODEN AWARD WATCH LIST: TCU guard Mike Miles Jr. , named the Big 12 Conference Preseason Player of the Year, and Iowa junior forward Kris Murray, selected to the preseason All-Big Ten Conference first team, are among 50 players named to the preseason John R. Wooden Award which is presented annually to the nation's top collegiate player.
While starting all 31 games, Miles was the only player in the Big 12 to finish the 2021-22 season in the top six in points and assists (3.8), ranking fifth and sixth, respectively. He led TCU in scoring in 18 games, scored in double figures in 16 games and recorded 20 or more points eight times. He was named to the 2022 All-Big 12 Tournament Team, the first Horned Frog in 25 seasons to be named to a conference all-tournament team. In addition to his All-Big 12 Second Team accolade, Miles was named to the NABC All-District 8 Second Team and to the USBWA All-Region VII Team. He won a gold medal while representing the USA at the 2021 FIBA U19 World Cup, playing under his college coach, Jamie Dixon.
Miles helped lead the Frogs to a round of 32 appearance in the 2022 NCAA Tournament, in which they narrowly lost to top-seed Arizona 85-80 in overtime. He averaged 20.5 points per game in TCU's two tournament games, which were also the first two postseason games of his collegiate career.
Murray went from a minor role player as a freshman to a key contributor for Iowa off the bench, while playing his way into the NBA Draft conversation. He was Iowa's leading scorer (9.7) and rebounder (4.3) off the bench last season, while ranking, second on the team in 3-point percentage (.397), blocks per game (0.9) and field goals made (124), He shared the team's Most Improved Player Award with Tony Perkins.
Earlier Miles was named to the watch list for the Bob Cousy Award by the Naismith Memorial Basketball Hall of Fame which recognizes the top point guard in college basketball.
Kris Murray was one of 20 players named to the 2023 Karl Malone Award Preseason Watch List. Sports Illustrated also has tabbed Murray as one of the nation's top collegiate Breakout Candidates for the upcoming season.
BROTHERLY LOVE:  Iowa men's basketball head coach Fran McCaffery has an affinity for recruiting sets of brothers.
First, he recruited his own sons, Connor and Patrick McCaffery, to the Hawkeye men's basketball team. Connor McCaffery joined the Hawkeyes in 2017, and Patrick McCaffery followed two years later. 
Kris and Keegan Murray, an identical set of twins from Cedar Rapids, joined the Iowa men's basketball team together in 2020. While Keegan Murray left for the NBA following the 2021-22 season, Kris Murray is still in Iowa City for the 2022-23 season.
The Hawkeyes will be getting their third set of brothers in four years when Pryce Sandfort joins Iowa in 2023. Pryce Sandfort is the younger brother of Payton Sandfort, who is currently a sophomore. 
"Well, I think there's familiarity on a number of different levels," Fran McCaffery said about recruiting brothers. "Obviously, the younger guys already know the guys on the team, and they've watched the program. They've watched the games. There's comfortability there.
MILES KEYS WIN: On the same day that they unveiled a statue for James Cash, their first-ever black student-athlete, No. 14 TCU basketball took down Lamar 77-66 in Schollmaier Arena to move to 2-0 on the season.
"Without [Cash], I'm not sitting here talking to you right now. Without him, we're not competing on the floor tonight. Without him, a lot of young black athletes, a lot of young black students would not be attending Texas Christian University right now," forward Emanuel Miller said.
After trailing by as much as 20 in their season-opening win over Arkansas-Pine Bluff on Monday, the Frogs never fell behind by more than one in this contest, as they rode a game-high 26 points from guard Mike Miles to a more-impressive win over the Cardinals.
Miles felt like, though they have a ways to go, TCU came out differently tonight than they did on Monday.
"I feel like we played harder today," Miles said. "Obviously, we still didn't play our best game, but I feel like we came out with a little more intensity."
Head coach Jamie Dixon agreed on the progress that is still needed on his teams' end.
"We should be better, and we've got to address that," Dixon said.
The game was Miles' sixth-straight to finish in double figures and the 13th 20-point performance of his career. Miller added a well-rounded contest with 12 points, 7 rebounds, and 6 assists.
HALL RETURNS, MAKES SEASON DEBUT:  P.J. Hall is back.
Clemson basketball's standout center returned from a knee injury Friday night and made his season debut at South Carolina. Hall missed the Tigers' season-opener earlier this week against The Citadel. He entered the game on the first media timeout and almost immediately scored his first basket.
Hall, a Spartanburg (Dorman) native, led Clemson last season with 15.5 points per game with 5.8 rebounds and 38 blocked shots while playing on a fractured foot. He was named to the watch list for Kareem Abdul-Jabbar Center of the Year.
Hall, a 6-foot-10 Spartanburg native who went to Dorman High School, played nearly all of last season with a fractured metatarsal, one of the long bones in his left foot. Just as he returned to workouts in July, he suffered a partial dislocation of a kneecap. 
COACHING CIRCLES: Fran McCaffery was just 26 years old when he was named the head basketball coach at Lehigh on Sept. 11, 1985. Twenty-seven seasons later, he got his first Power Five head coaching job at Iowa.
McCaffery had become a hot item in coaching circles after his 2009-10 Siena team won 27 games for the second straight season and earned the program's third consecutive NCAA Tournament bid.
Iowa, looking to replace Todd Lickliter, came calling. But the Hawkeyes were not alone. Seton Hall, Iowa's opponent  tonight (Wednesday) in a Gavitt Games matchup, was a serious player for McCaffery's services. St. John's was interested as well.
Pat Hobbs, now at Rutgers, was the athletic director at Seton Hall at the time. That school was looking to replace Bobby Gonzalez as its head coach.
"Pat Hobbs was running the search," McCaffery said. "There are not many people more professional than that guy. He is tremendous, and he's done a phenomenal job at Rutgers. He treated me and Margaret (McCaffery) with such respect. That is the kind of guy you want to work for. And we were real close on that one."
The search for a new coach doesn't follow the same blueprint at every school.
HIGH EXPECTATIONS: The moment that TCU basketball walked off the court following a nail-biting 85-80 overtime loss to top-seed Arizona last March, head coach Jamie Dixon knew things would be different for the program going forward.
"I just think I told them they made millions of fans tonight by watching this game," head coach Jamie Dixon said following the Arizona loss. "The challenge now is to handle it the right way after this loss."
Nearly eight months later, every preseason poll in the nation had TCU ranked (with most putting them in the top 15), and the Frogs are set for their most anticipated season ever.
For just the third time in the history of the program, TCU is ranked in the AP Poll to start the season, and their spot at No. 14 is by far their best ever. Prior to the 2018 season, the Frogs were ranked 20th, and they were 24th prior to the 1998 season.
After being selected 8th in last year's Big 12 preseason poll, the Frogs made a massive jump to 4th in this year's preseason selections, falling behind Baylor, Kansas, and Texas.
This comes as no surprise, though, as TCU is returning 89.4% of its minutes, 92.5% of its scoring, and 93% of its rebounding from a team that set program records for ranked wins (five) and Quad 1 wins (nine).
To some, this hype is too much for the Frogs to handle, but Dixon doesn't see it that way. To him, TCU basketball has finally raised their bar to expect the hype they deserve based on the way they performed last season.
"We're good. We believe we're good, but our league's very good. We need to do the things that good teams do. We need to do those every day in practice. We need to do those off the floor. We need to do those as a program, "Dixon said at Big 12 media day. "We're not trying to shoot down expectations. We're not trying to lower them. This was a place [TCU] that had no expectations, so we're not trying to lower them now.
RALLY FALLS SHORT: The California men's basketball team could not pull off a second-half rally and dropped a 64-62 nonconference road game against UC San Diego Tuesday night.
 
After facing a 10-point halftime deficit, Cal (0-3) made a late push for the second consecutive game but could never grab the lead down the stretch. Devin Askew finished with a team-high 13 points while Grant Newell (12), Kuany Kuany (11) and Lars Thiemann (10) added double-figure scoring efforts.
 
A 3-pointer by UCSD's Bryce Pope – his fifth of the night – with 12 seconds left gave the Tritons (1-2) a 64-60 lead. After a UCSD timeout, Askew converted a layup to cut the deficit to two. The Golden Bears called timeout and fouled Jace Roquemore, who missed the front-end of a 1-and-1. Askew grabbed the rebound and was able to fire off a 3-point attempt, but missed the mark.
HEADLINES
CAL
Nov. 15: Bears Look To Right Ship
Nov. 14: Bears Prepare For First Road Contest
Nov. 11: Second-Half Surge Comes Up Short
Nov. 11: Turnovers Doom Bears
Nov. 11: Postgame Press Conference Vs. Kansas State
Nov. 11: Comeback Falls Short
Nov. 12: Recruit Talks About Commitment
Nov. 10: Bears Host Kansas State
Nov. 9: Cal Adds Two Signees
CLEMSON
Nov. 15: Tigers Trounce USC Upstate
Nov. 15: Balanced Effort Keys Win
Nov. 15: Back In The Win Column
Nov. 15: Clemson Looks To Rebound
Nov. 11: Clemson Falls At Buzzer
Nov. 11: Heartbreak Loss At Buzzer
Nov. 11: Tigers Fall On Last-Second Shot
Nov. 10: Gameday Guide vs. South Carolina
Nov. 10: Tigers Set To Battle Rival
Nov. 9: Thomas Signs With Clemson
IOWA
Nov.  14: Game Notes vs. Seton Hall
Nov. 14: Fran McCaffery Weekly Press Conference
Nov. 11: Hawkeyes Whip North Carolina A&T
Nov. 11: Iowa Blows Out Aggies
Nov. 11: Takeaways From North Carolina A&T
Nov. 10: Weekly Press Conference Video
Nov. 10: Fran McCaffery News Conference
Nov. 10: Game Notes vs. North Carolina A&T
Nov. 10: Hawkeyes Sign Three Prep Standouts
TCU
Nov. 15: Short Handed TCU Struggles
Nov. 14: Minus Miles—Frogs Fall To Demons
Nov. 14: Baugh Sidelined For Six Games
Nov. 13: Preview Vs. Northwestern State
Nov. 11: 3 Takeaways From Win Over Lamar
Nov. 11: Miles Leads Frogs Past Lamar
Nov. 11: Former Player Honored With Statue
Nov. 10: Game Preview Vs. Lamar
Nov. 9: Two Top 100 Preps Sign With TCU
Nov. 8: A Tale Of Two Halves
ULM
Nov. 14: Seven Players In Double Figures As ULM Rolls
Nov. 13: Warhawks Face Central Baptist
Nov. 10: Balanced Attack Keys Home Opening Romp
Nov. 9: ULM Opens Home Season
LOYOLA MARYLAND
Nov. 13: Second Half Run Seals Victory
Nov. 11: Greyhounds Host Brown In Home Opener
Nov. 10: Late First-Half Run Dooms Loyola
Nov. 9: Loyola Travels To Penn State
OMAHA
Nov. 13: Crutchfield Earns First Victory
Nov. 12: Omaha Hosts Idaho In Home Opener
Nov. 11: Mavericks Fall At Nebraska
Nov. 10: Mavericks Set For Rivalry Game
SOUTHERN
Nov. 11: Jaguars Fall to No. 17 Arizona
Nov. 8: Jaguars Drop Opener At UNLV