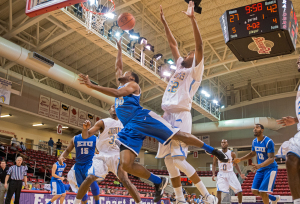 NICEVILLE, FLA –  Eastern Illinois raced to a 24-1 lead and never looked back en route to a 54-43  victory past Southern in a consolation game of the Emerald Coast Classic Saturday afternoon.
The Panthers, who snapped a four-game losing streak, moved to 2-5 entering a Wednesday home game with Ball State.
Southern opened the game by missing its first 12 shots from the floor, going 11 minutes 59 seconds without a basket before Chris Thomas ended the drought with a three-point basket.  The Jaguars, who suffered their fifth straight loss, fell to 1-6 overall.
E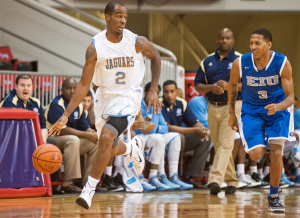 astern Illinois swingman Trae Anderson came off the bench to collect-high 16 points and six rebounds      points. Dylan Chatman added 11 points for the Panthers.
Reserve Jared Sam led Southern with 13 points, while guard Trelun Banks had nine points and three steals.
Eastern Illinois attempted only 31 shots, but hit a sizzling 58.1 percent from the floor, making 18 baskets. Southern shot just 31.9 percent from the floor.