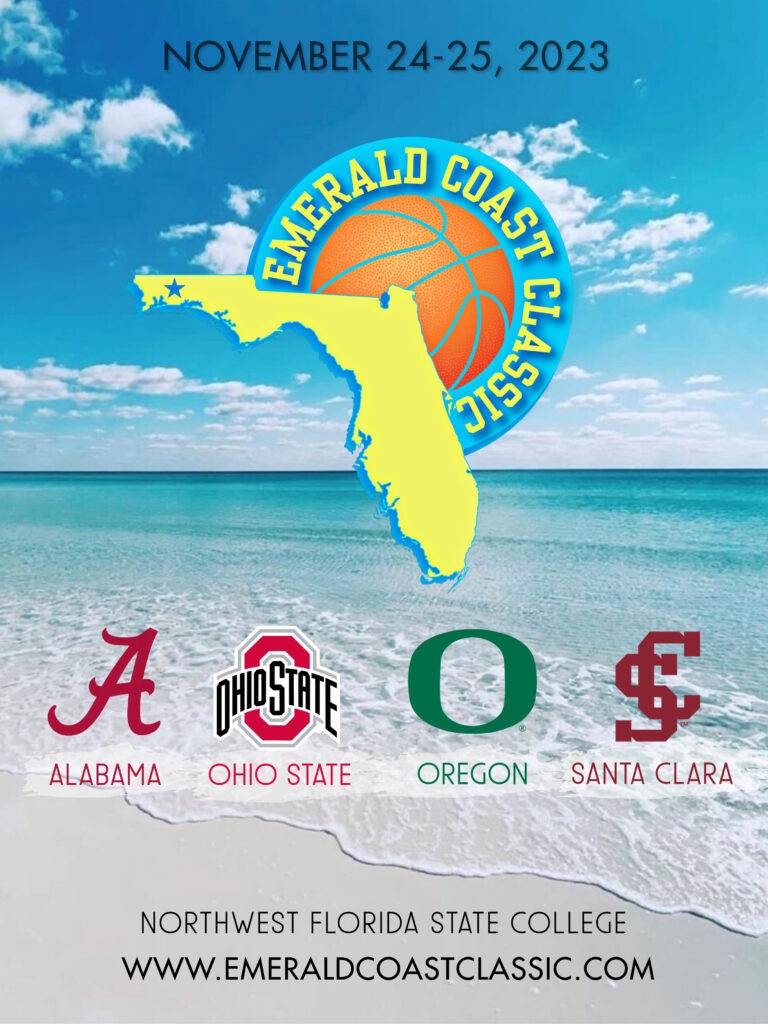 NICEVILLE, FLA. — Alabama, Ohio State, Oregon and Santa Clara headline the field for the 2023 Emerald Coast Classic basketball tournament, presented by Global Sports.
The tournament will be played Thanksgiving weekend Nov. 24-25 at Raider Arena on the campus of Northwest Florida State College.
Alabama was ranked No. 1 in the final Associated Press basketball poll and was the top overall seed in the 2023 NCAA Tournament, while advancing to its ninth Sweet 16 Tournament appearance in school history.
Head coach Nate Oats guided the Crimson Tide to a 31-6 record, winning both the SEC regular-season and post-season tournament titles.
Oregon advanced to the quarterfinal round of the 2023 NIT en route to a 21-16 record. The Ducks have won 20 or more games in each of Dana Altman's 13 seasons as head coach, advancing to the 2017 NCAA Final Four.
Ohio State went 16-19 in 2022-23, advancing to the semifinal round of the Big Ten Tournament. The Buckeyes were No. 52 in the final NET rankings.
Santa Clara, under coach Herb Sendek posted a 23-10 record last year — the most regular season wins at the school since the 1968-69 season —while advancing to the NIT.
"We're excited about the rich tradition of this year's tournament field, " said tournament director Maury Hanks, chief executive officer of Global Sports. "We continue to strive to bring the best college basketball teams possible to the Emerald Coast of Florida."
Global Sports has produced 52 multi-team college basketball tournaments since 2007.
Tickets will go on sale for the tournament later this summer.
For more information visit the tournament website www.emeraldcoastclassic.com
Emerald Coast Classic History
2022 — TCU, champion; Iowa, runner-up
2021 — LSU, champion; Wake Forest, runner-up
2019 — Florida State, champion; Purdue, runner-up
2018 — Cincinnati, champion; Ole Miss, runner-up
2017 — TCU, champion; St. Bonaventure, runner-up
2016 — Virginia, champion; Providence, runner-up
2015 — Iowa State, champion; Illinois, runner-up
2014 — Ole Miss, champion; Cincinnati, runner-up